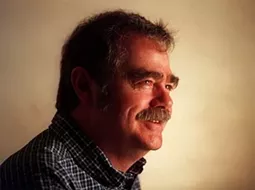 stltoday.com
Bill McClellan
Every now and again, a crumb of genius falls from the table inside
Bill McClellan's
head and lands in one of his columns.
He
tossed this one off
in the
Post-Dispatch
yesterday while discussing
"Meet Me In St. Louis" at The Muny
(at which he started crying, incidentally):
"Back when the country was founded, the successful people had no reason to leave the East Coast. The less successful people pushed west. This clump of unsuccessful people reached St. Louis. The adventurous ones pushed on. The slackers stayed here. Much later, we built the Gateway Arch to honor the people who had the gumption to keep going. We are the only city in the world that has a memorial to honor those who left."

As a longtime St. Louis dweller, Unreal has never once thought of the Arch in that way. But we concur.
Having resided in both unincorporated and incorporated regions (including Cahokia, Knob Lick and Versailles -- pronounced Ver-sales -- Missouri) Unreal often finds our fellow St. Louisans to be rather
unlike
the pioneers who kept moving westward, and on the contrary, to be
by far
the least willing to move away and the proudest of their hometown.
Every city has its native devotees, true. But we submit that St. Louis has the highest proportion, and the most fervent.
Sound off-base to you? Leave your comment below.
(Also, keep in mind, the gist of McClellan's column was how much he adores St. Louis.)