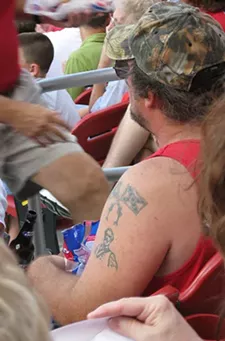 flickr.com/photos/bk1bennett
This Cardinals fan shouldn't have any problem entering the ballpark, despite his camo hat and Rebel flag tatoos.
The Cardinals and Major League Baseball today announced security policies for the All-Star Game and related events.
The organizations say that a good rule of thumb is that anything that would be
banned from a commercial flight
will also be prohibited from Tuesday night's All-Star Game. Like airport procedures, all
fans will be required to pass through a metal detector before entering the stadium for the All-Star Game
, in which President Barack Obama is slated to throw out the
first pitch
.
And unlike most Cardinals games,
smokers will not be allowed to exit and re-enter Busch Stadium for a cigarette
during the game. Once someone leaves the ballpark, they're out for good.
Security won't be as tight for Monday's Home Run Derby and other events though
fans won't be able to bring any water bottles into the stadium and are to limit any bags to 16-inch x 16-inch
.
In related news, the St. Louis Metropolitan Police Department announced today its teaming with the FBI, ATF, Missouri Highway Patrol and (somehow) the Sikeston and Florissant police to patrol downtown during the All-Star festivities.
Law authorities will be in uniform and undercover and will be patrolling by car, foot, bike and, yes, scooter.