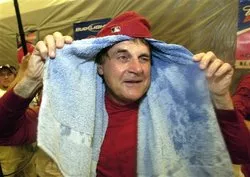 nlds2.mlblogs.com
La Russa attempts to block out the Internet satire
Last month La Russa said Twitter had agreed to settle
the suit
(filed because one of those snarky, anonymous Interwebz kids was tweeting snarky Interwebz things under TLR's name) out of court by making a donation to his
ARF charity,
but apparently that isn't the case.
Instead,
Law.com reports
that the Cards skipper dropped the case with no compensation for his furry animal friends.
In a June 26 court filing, La Russa's lawyer, Gregory McCoy, wrote that his client was dismissing the case, adding that "

No payment was made by Twitter to La Russa in exchange for this dismissal

." According to a person familiar with the case, there was no settlement of any kind.

In what appeared to be

the first legal challenge to the popular San Francisco startup

, La Russa sued Twitter on May 6, alleging that an unknown person had been tastelessly using his name and image, tweeting from an account named "TonyLaRussa." Besides claiming that La Russa's identity had been hijacked,

the suit asserted that Twitter was damaging La Russa's trademark rights to his nationally famous name

.



Legal observers were skeptical of the merits of the case

, quickly pointing out that Twitter should not be liable for the parody because of Section 230 of the Communications Decency Act, which gives Web sites immunity from lawsuits over what their users post online.

"I would say that it looks like saner heads prevailed -- I don't think this lawsuit should've been brought in the first place," said Corynne McSherry, a lawyer with the Electronic Frontier Foundation who has followed the case. "I think

their legal claims were weak at best

."

(Hat tip to
Deadspin
for spotting it first.)