It's been a while since our last update on Saint Louis University associate professor
Joe Webb
and his Internet alter-ego "Dr. Wizard."
Last November
we told you how Webb's online advice column
for college students,
dr-wizard.com
, was all the rage with undergraduates -- earning the author a column in a national magazine and talks of a book deal. We also noted in that same article how Webb was waiting to appear on the television game-show,
Jeopardy
.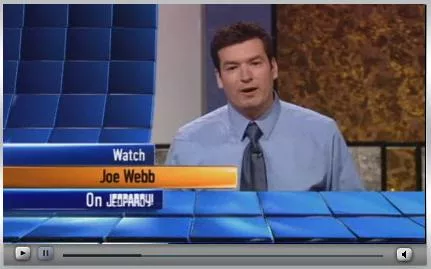 Well, that moment has arrived. (Actually, filming of the show came and went a few months ago, but the airing of the show is today.)
So, how does Webb fare?
We'll have to wait until the show broadcasts (KSDK Channel 5 at 3:30 p.m.) to find out. However, a video snippet from
Jeopardy'
s website has host, Alex Trebek, ribbing Webb for being in negative numbers for half the show.
Sadly, for St. Louis, Webb will soon be moving to Los Angeles to work as a television writer. But don't worry. He hasn't forgotten his roots. In a video clip (available
here
) on the
Jeopardy
website, Webb invites viewers to
"pop open a Bud, pump up the Nelly and watch me try to get it hot in herre on Jeopardy."