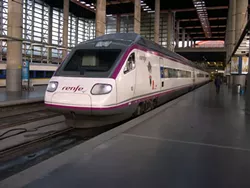 Because no one can ever get enough news from
Progressive Railroading
(a.k.a. "The Rail Professionals' Information Source"), I share with you an
article
from last week's issue.
It's about a proposed, high-speed train connecting St. Louis to Chicago. Unlike a
proposal in April
that called for an improved rail system that would allow trains to travel as fast as 110 m.p.h., a report released last week from the
Midwest High Speed Rail Association
suggests that a new rail line between St. Louis and Chicago could allow trains to double that speed. The bullet trains could travel as fast as 220 m.p.h.
At that clip, passengers could ferry between the two cities in just two hours. The price tag for the high-speed rail line? A mere $12 billion.