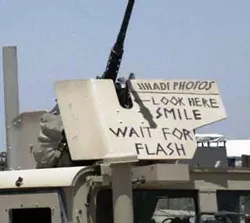 The
Belleville News-Democrat
published a curious story this morning about St. Clair County's
four year-long legal battle
with a gun club in Caseyville.
Since June 2001, the county has spent almost $200,000 in legal fees attempting to shutter a shooting range near Scott Air Force Base because they believe it is "a public danger."
Many a concerned citizen has asked "I wonder where all those stray bullets are landing? In the school playground? In my backyard? In targets with little Osama bin Laden faces taped to the bullseye?"
But the fear that a misfire might land in the fuel tank of an F-15 Fighter roaring thousands of feet above doesn't usually rank as a common concern. Except in this case:
The Caseyville Rifle and Pistol Club has spent the past four years battling for its survival in a legal war of attrition with St. Clair County.

So far the gun club -- the owner of

the metro-east's only outdoor rifle range

-- has won every round in court. The most recent victory occurred June 5, when a St. Clair County Circuit judge dismissed the county lawsuit aiming to shut down the 32-acre shooting range on the grounds it's a public danger.

The judge ruled

the club is no more dangerous to aircraft landing at nearby Scott Air Force Base than hunters who discharge guns nearby

.
Yes, the county actually believes that the local gun nuts might take a break from sighting in their new Berretta to bust a few caps in the direction of a US Air Force plane coming in for landing.
To assuage any safety concerns, the gun club built a 20-foot dirt berm around the facility and installed backings on the targets capable of stopping armor-piercing bullets.
But they've also been slowly bled by the cost of the legal battle (even though
the county was ordered to pay $80,000 in court costs
after losing the latest round) and have seen their membership dwindle recently. Guess that's why you don't bring a gun to a lawyer fight.
Some St. Clair county officials are calling for an end to the expensive crusade against the gun club, pointing out that the notion of an upstanding second amendment supporter bringing down a US Air Force plane with small arms fire is a bit absurd.
Then again, after reading what the club's president told a BND reporter on a recent visit, they might change their mind.
It's a question that [club president Randy] Seper said he can't answer, either. For him, the idea that a gun club member would shoot a plane overhead makes no sense.

After showing a visitor around the shooting range's grounds, Seper pointed to a clump of trees just outside the club's southern boundary.

"

If I was going to shoot at a plane, I would do it from over there and not out in the open

," he said.