Unreal has observed that anything can be made exponentially cuter by shrinking it. Take the Hostess Donettes currently on our desk for instance. Or the miniature horse.
At seventeen inches,
St. Louis very own
Thumbelina
is the world's smallest horse.
flickr.com/photos/96621012@N00
Don't you just want to pick her up and squeeze her? Now it has just come to Unreal's attention that there are also miniature cows. And bulls!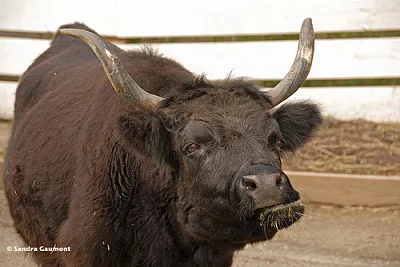 flickr.com/photos/8148015@N05
Miniature cows, however, have a greater purpose in life than merely being cute. These cows
work
. And then we eat them.
flickr.com/photos/7326810@N08
A mini cow weighs less than half of what a regular cow does -- 500 to 700 pounds as opposed to 1,300 -- but it can produce 75 percent as much steak. The proprietors at
4R Farms
in Republic, Missouri, near Joplin, estimate that a herd of mini cows yields 154.3 pounds of meat per acre, as opposed to 110 pounds by a herd of Angus or 83.1 of Wagyu.
You can also milk a mini cow and get two or three gallons a day, although you have to kneel down to do it.
More significantly,
reports
the
Los Angeles Times
, mini cows occupy less space and consume less feed, which is important these days now that the price of land is falling and the cost of feed is rising. There are now 20,000 mini cows in this country.
Interestingly, mini cows are not some mutant strain of bovine. Instead, they are the
descendants of cows that originally immigrated here from Europe in the 1800s
. Animal scientists didn't start breeding what we now consider regular-sized cows until the 1950s, when nobody fretted about the cost of land or feed.
flickr.com/photos/brandy_lee
William Saletan
argued
last week in
Slate
for a parallel between cows and humans, notably that
now it is the oversized cows that are considered "normal" these days, just as only fifteen percent of obese humans actually recognize themselves as obese
. He suggested that someday quite soon thin people will be considered "mini humans." Unreal thinks he took the film
Wall-E
a little too seriously.
Mini cows encroach (somewhat offensively) upon popular culture: