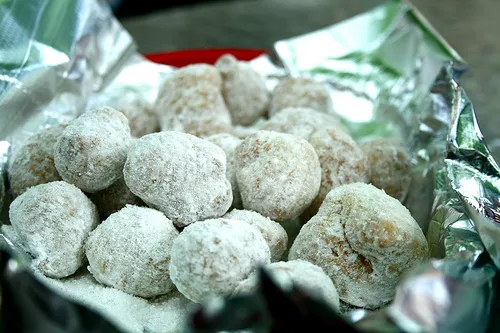 Photo by: Todd R. Jordan
Feraro's Pizza Frites are the perfect Tweep food.
I wanted to post a list of upcoming social media events this week but when I went searching around for events I only really found one; the weekly
Bring a Tweep to lunch
event hosted and organized by one
Todd R. Jordan
or
Tojosan
if you're on Twitter. Probably one of the most prolific Social Media people in St. Louis.
I haven't been able to attend one of these lunches due to my day job downtown. So I thought I'd send Todd a few questions via email and have him explain the Bring a Tweep To Lunch meet ups.
What is a tweep and why would one want to bring one to lunch?
Tweep is an affectionate term for a twitter friend, or friend you're introducing to twitter.
So, what's the purpose of the lunches?

The purpose is to encourage informal networking, introducing St. Louis Twitter citizens to each other, to make friends, break down barriers, increase real life connections, and as gateway events for bigger social gatherings. I'd ideally love to see this springboard into bigger events, held by others.
How long have you been doing them?
This series of events began the week of Memorial day or the week before. This I believe will be week five or six.
Who shows up to these events?
A variety of folks attend. Some bloggers, some small biz folks, some regular day job/non-blogging/twitter citizens. We've had a handful of non-Twitter folks as well, spouses.
How many people usually participate?
The largest group was about a dozen, the smallest three. The average is about six or seven.
Dutch all around, though I've spotted the occasional dollar, and would encourage anyone to come even if they choose not to spend money on lunch. More than one person has just turned up and hung out. Jon, Feraro's Pizza, did give us some great specials and even brought out free dessert, pizza frites.


Have you heard of any positive outcomes from people networking at these events?
Absolutely! At least one small business owner received business via a connection made at one of these. Other tweeps have become friends, including a couple of individuals connecting for specific personal services, such as skin care.
Have you ever had anyone try to hijack an event for their own agenda or a sales pitch or something?
No hijack attempts yet. That said, on one occasion an attendee used it to badmouth another group's event.
What do tweeps really like to eat?
Pizza!! Feraro's was the most praised, though St. Louis Bread Company was a big hit with everyone that attended.
So how many more are you doing and where can people find out about where future ones will be?
This is a limited run but lasting all summer. Every Friday through Labor Day, minus 4th of July weekend, is the plan. The events are so far always on Fridays and always about 11:30 - 12:30. Each location is essentially random, chosen to be in a different section of town and a different type of restaurant.
A couple of other things: bring a camera, bring your business cards, bring your appetite. The most asked question: "how can I connect with you outside twitter"
The next lunch meet is tomorrow at
Dave & Busters in Earth City
, but they happen weekly in different locations. Follow
Tojosan
on twitter to get information about other upcoming events.