Act, Inc.
is a lovely summer theater noted for its sweetness and gentility. While other local companies strive to be edgy, Act, Inc. revels in the past. They're much more excited by rediscovering a play written a century ago than in something new. They also delight in staging plays about theater.
Drama at Inish
and
Noises Off
were two of their most delightful offerings in recent years.
This weekend Act, Inc. opens its two-play season with an obscure Noel Coward work. Coward wrote
Waiting in the Wings
at the end of his life. Set in a retirement home for aging actresses, this script might be lesser Coward, but it is borne out of a lifetime of familiarity with the characters it dramatizes. Its original 1960 staging in London was not successful, and the play has been pretty much overlooked ever since. Ten years ago it belatedly opened on Broadway as a star vehicle for Lauren Bacall and Rosemary Harris -- which proved to be a bad idea, since the play is not about star power. Apparently the celebs overwhelmed the fragile piece.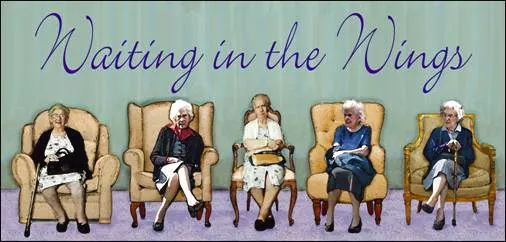 There are no stars at Act, Inc. But there are ten local actresses of (to put it politely) various ages. Among them is Dorothy Farmer Davis, who some years back gave a luminous performance in Coward's
Relative Values
at the Kirkwood Theatre Guild. If the ensemble follows Davis' lead and doesn't try to shake the stuffings out of every line,
Waiting in the Wings
might prove to be yet another Act, Inc. love letter.
Of shorter duration...
On June 19 and 20 the
Gateway Men's Chorus
kicks off
Pride Week
with an Edison Theatre concert titled "
Remembering Stonewall
." This, in memory of the Stonewall riots that broke out to protest a police raid on the Stonewall Inn in Greenwich Village on June 28, 1969. Today those riots are deemed the flash point for the beginning of resistance against what appeared government-approved persecution of gays The concert also notes another 40th anniversary -- it was June 22, 1969, that Judy Garland died at age 47.
On Sunday night, June 21, the
Black Rep
presents a Father's Day benefit concert onstage at the Grandel (where the much-lauded
Blues in the Night
(scroll down) continues for another week) to raise funds for its youth-oriented scholarship fund.
Last Monday night at the opening of
42nd Street,
during intermission I happened to walk past some windows that looked in on the rehearsal of
Annie
, next week's show. John Schuck, who plays Daddy Warbucks, was all smiles. Clearly he was having a ball. We viewers get to join in the fun next Monday. Every summer one Muny musical runs long, thus freeing up lots of good seats that normally go to subscribers.
Annie
runs for nine performances, through June 30. But if you want to see her up close, I would advise against delaying your ticket purchase until tomorrow. I've been told that the good seats are going fast.
We actually have dueling
Annie
s this week. The moppet musical opens at Missouri's most picturesque summer theater,
the Lyceum in Arrow Rock
, on Friday night, also for nine nights.