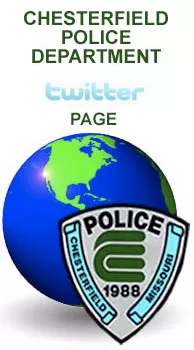 The
Chesterfield Police Department
began Twittering yesterday. And based on the looks of the image on their Twitter page, they seem to have global aspirations. And is it me, or does that graphic on their logo look like a fist?
But rather than speculate about what the symbol may mean, I decided to find out what the Chesterfield PD's real intentions were for using the service.
Lt. Steve Lewis
, Public Information Officer (PIO) with the Chesterfield PD was kind enough to
cut and paste a reply from a press release
answer some questions for me via email.
What kinds of things will the PD be Twittering?
The police department will tweet information of an immediate nature such as road closures, major incidents etc...
Will you be Twittering crime/arrest reports, links to mug shots, or blotter reports? If not has there been any consideration to do this?
We will not do blog type information on Twitter, however on our website we do intend on having blotter type information.
Who had the idea to use Twitter?
One of our Police Captains brought the information to the agency.
Who will be posting tweets?
I will be responsible for posting tweets as the PIO.
Will you be monitoring Twitter for crime? Will a citizen be able to report incidents via Twitter direct messages?


No citizen reporting as of yet for twitter.
Are there any plans to use other social media tools (Facebook or MySpace etc) in an official capacity?
Not at this time.
Roger that. We copy. Over.


Follow the Chesterfield PD on Twitter
here
.