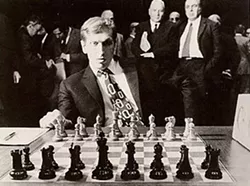 Rex and Jeanne Sinquefield, co-founders of the Chess Club and Scholastic Center of Saint Louis,
purchased
a large collection of writings by the reclusive and controversial chess master Bobby Fischer for $61,000 at a San Francisco auction earlier this week.
The prize of the collection are the notebooks Fischer kept leading up to his
1972 World Championship Match
with the Soviet grandmaster Boris Spassky. Also included in the haul are "320 books on chess; about 400 issues of chess-related periodicals; three sets of proofs for Fischer's 1969 book, 'My 60 Memorable Games'; and a number of bound volumes detailing the match histories of several chess masters."
The couple, who are retired investment company executives, say they are still deciding what to do with their prize but are "thinking about how to display it and make it available to scholars."
The Chess Club
, located in the Central West End and host of the 2009 U.S. Chess Championship, was founded in 2007 with donations from the couple's charity.
A child prodigy who won the U.S. Chess Championship at age 14, Fischer is widely regarded as one of the most brilliant chess masters every to play the game. He's also one of the most controversial, forfeiting his World Championship title,
espousing anti-Semitic views
(despite the fact that his mother was Jewish, he was a Holocaust denier) and
renouncing his U.S. citizenship
later in his life. He died in 2008 at the age of 64 while living in exile in Iceland.