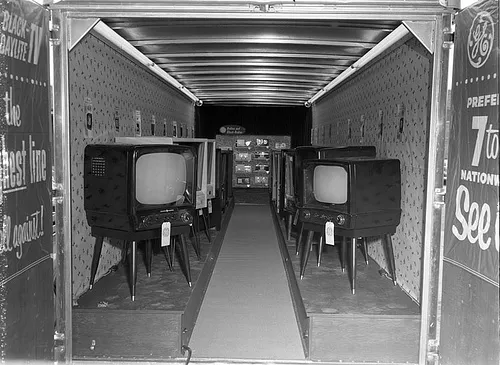 Tomorrow broadcast TV is going all digital on your ass, when analog television signals are switched off and replaced with digital signals. Hopefully you've heard about this already and have purchased a converter box if you aren't already using cable or a satellite service.
Just in case you've been out of the loop (and if you are, you probably don't watch a lot of TV anyway because it's harder to miss a DTV conversion PSA than it is a Sham-Wow ad) your old television that only receives analog signals over the air becomes obsolete tomorrow.

Why? Because the powers that be have decided that it would be best to convert to digital signals so they can auction off part of the airwaves in the public domain to cell phone carriers. These carriers can then sell it back to us at a premium so we can watch even crappier YouTube videos on our cell phones without having to wait for them to buffer. Oh wait ... you heard that the old broadcast bands were going to be used for police and fire department radio signals? Well, yeah, that's a small part of it, but most of it is going to the cell phone companies.
Not to worry though, you have options. You can get a converter box or cable or satellite service. None of which are free options. If you go with the cheapest of the three, the converter box, you might discover (
like Chad Garrison did
) that you actually have fewer viewing options than you had before because the new digital signals just don't carry like the old analog ones. And it's not like the old days when even if you got a weak signal you could still sort of watch TV with a snowy picture. With digital, either you have a signal or you don't.
If you do happen to discover that you can get most or all of the local channels over the air in digital, you might be surprised that the quality of the signal and the programming options are better than they were before the switch. With digital broadcasts, TV stations have the ability to provide multiple signals each with different programming. For instance, KETC Channel 9 (our local PBS station) actually has four digital channels of programming. KSDK Channel 5 has two.
So in case you are way behind the curve and have missed all this stuff about TV going all digital tomorrow, the FCC has set up a website,
DTV.gov
to provide you with all the info you need to make the switch. How does the FCC expect the switch to go? It's been reported in several places that FCC Chairman Michael Copps says that there are about three million households still unprepared for the switch.