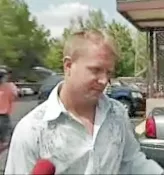 More details are emerging in the
bizarre case
of Chistopher Coleman, the Columbia, Illinois, man
accused of killing his wife and two sons
last month.
Yesterday
Columbia Police Chief Joseph Edwards said that the threatening emails the Coleman family received prior to the murders originated from Christopher Coleman's laptop computer. The police chief also said that vulgar statements spray painted at the murder scene matched Coleman's handwriting.

Authorities also revealed yesterday that Coleman had told his Florida girlfriend, Tara Lintz, that he planned to file divorce papers against his wife, Sheri Coleman, on the day of the murders, May 5. That move would have cost Coleman his job as a security guard with Joyce Meyer Ministries, which has a policy against employing divorcees.

Yesterday it was also revealed that an autopsy has determined that Sheri Coleman and the couple's two children --
Garett, 11, and Gavin, 9 -- were dead from strangulation prior to Christopher Coleman leaving the home at 5:45 a.m. for a morning workout.

Coleman called the police from a south St. Louis County gym the morning of May 5 after claiming to call his home and getting no answer. Coleman told the police he was concerned about the safety of his family after receiving anonymous threats.