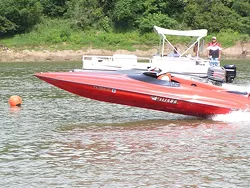 flickr.com/photos/13kingdoms
Ahh, the HydroHoosier. Though rare in these parts, he is an indefatigable beast who will persist in "gunnin' it and stunnin' shit" no matter what financial difficulties may accrue.
So in case you've heard that the
30th Annual Budweiser Creve Coeur Drag Boat Classic
on June 20 and 21 is canceled,
you've heard wrong!

Nothing stops a quarter-mile of liquid thunder!


Still, there seems to be some problems with people confusing the Drag Boat Classic with that
other
watercraft showdown, the Grand Prix Race at Creve Coeur Lake, that was canceled this year.
But no, the Drag Boat Race is officially on even though they, too, have experienced financial hardships. But, hey, why are we still blabbing away about it when the Drag Boat Classic's promotional director, Chris Orf, does a dandy job of it in the following media advisory. It's
Daily RFT's
"Press Release of the Day."
To Whom It May Concern,
As most of the media knows by now, unfortunately Bill Seebold had to cancel the Grand Prix Race at Creve Coeur Lake this year. What is even more unfortunate is that the public is confusing that race being cancelled with the Drag Boat Race on Father's Day weekend (June 20 & 21) of this year.
Much like the Grand Prix Boats, we were short on sponsorship as well. The Saint Louis Drag Boat Association has been able to put on the race at Creve Coeur because we borrowed money to promote the race and have many small local sponsors. Because of a large part of the public (and our sponsors) thinking the race is cancelled, we are worried that the Saint Louis Drag Boat Association could go under due to low attendance. In addition, we have donated over $50,000 worth of tickets to charities that they were to sell and keep 100% of the proceeds. We now not only have heard that they have thrown the tickets away, because of thinking the race has been cancelled, but we also now have Sponsors wanting their money back.
Below is a Press Release that the City Of Maryland Heights has put together for us. If you can help us spread the word that The Drag Boats ARE RACING, we would greatly appreciate it!
Thank you for your time and help,
Chris Orf
Promotions Director - Saint Louis Drag Boat Association
636-262-6851
orfinterests@yahoo.com [mailto:orfinterests@yahoo.com]
Press Release
Press Release
FOR IMMEDIATE RELEASE June 10, 2009
30th Annual Budweiser Creve Coeur Drag Boat Classic on June 20 & 21
The 30th Annual Budweiser Creve Coeur Drag Boat Classic kicks off Father's Day weekend
(June 20 & 21) at Creve Coeur Lake in Maryland Heights, Missouri. The event will feature six classes of boats competing in non-stop racing as well as plenty of family-friendly activities.
Officials anticipate that as many as 100 drivers will take part in the two-day event, including 18-year-old Ashly Ruf, who will compete in a 140 mph open drag boat. She is the youngest female driver in the United States to be licensed in a 180 mph pro mod drag boat. Hosted by the St. Louis Drag Boat Association and Lucas Oil Drag Boat Racing Series, the event is sponsored by Budweiser, Bass Pro Shops, O'Reilly Auto Parts, Twister's Bar and Grill and approximately 50 other local sponsors.
For the first time in the race's history, a number of family-oriented events around the lake have been added to this year's schedule. Children's activities will include two bounce houses, appearances by former St. Louis Blues players Tony Twist and Terry Yake and photo opportunities with some of the famous drag boat teams.
Joe Steimann from Little Pilots will also be in the activities area with his restored F-4 Phantom Cockpit Photo booth, where kids can put on a flight suit and have their picture taken inside a fighter jet cockpit for only $5. Midwest Rotor will offer helicopter rides for $45, and fans will have the opportunity to tour an Army National Guard Bridge Erection Boat. Hungry spectators can choose from a number of top-notch food vendors, including Scotti's Deli and Tony Twist. Twist will prepare all-natural beef provided by Terry Yake, owner of T-Bones in O'Fallon.
Qualifying elimination races for the six classes of boats will take place from 10 a.m. to 6 p.m. on Saturday, and finals will run in a similar format on Sunday. Tickets are $10 for Saturday and $15 for Sunday, or an all-weekend pass is available for $18. Admission for children 12 and under is free, and parking is $3. All tickets can be purchased at the main gate on the day of the event. A portion of the weekend's profits will be donated to two charities the race supports, Autism Speaks and Angels' Arms. Fans should bring their own lawn chairs, which they can set up anywhere along the lake. No coolers will be permitted.
For more information about this release, please contact Chris Orf at 636-262-6851
and sldbapromo@yahoo.com, or visit www.sldbaracing.com.