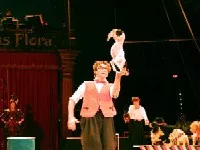 Photo: Stacey Cassmeyer
Johnny Peers and the Muttville Comix
I have seen the Cossacks racing horses in dizzy circles, and known the inspiration for the Centaur.
I have witnessed a pack of dogs, some no taller than your knee, outwit a man, knowing all the while that I would fare no better against their hungry intellect.
I have gasped at the sudden flight of human beings, and wondered at the fickleness of gravity.
For you see, I have been to Medrano.