Slogging through a pile of stale press releases,
Unreal
this morning realized we completely missed last weekend's
Missouri Truck Driving Championships
!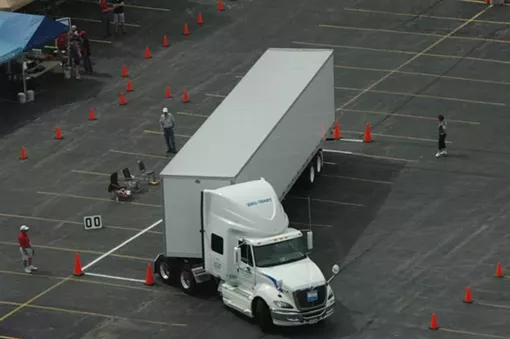 Missouri Motor Carriers Association
Only 8 out of 136 drivers scored in the jackknife parallel parking competition!!
Having thoroughly dried our eyes at the realization, we gave a jingle to Missouri Motor Carriers Association President Tom Crawford for some scoop on the 40-something-th annual event, held at the Doubletree Hotel in Westport Plaza.
Unreal: Was this the first time you've held this special event?
Tom Crawford: Oh gosh, no. This was the 42nd or 43rd first time. We've had it for the past twenty-plus years down in Joplin but since made the decision to move it around the state to get a little better exposure. This year was St. Louis, next year is Springfield, then Kansas City and back to Joplin.
There were 136 competitors?
Yeah. It was down quite a bit, due to the economy. Typically we have 180, and we've had as high as 230 competitors. It's a pretty intense competition.
Apparently, if there's an obstacle course!
[Laughs.] This year it was a very difficult course, with six problems: a diminishing clearance line (involving cones and tennis balls); left-hand cone turn; the jackknife parallel park, where only eight competitors even scored points; the left-hand rear-trailer tire turn; left-side scoring, and a front-bumper stop. Essentially the whole event is focused on safety. We spend all year telling truckers not to get close to something. Here at this event we tell them they need to get as close as possible. It's a bit backasswards!
And how did the competitors fare?
Our top competitor got 480-some-odd points out of 500, which was just phenomenal. A lot of folks are surprised to learn that some of the best drivers in this competition are competing in vehicles they never drive. So for instance you'll have a FedEx driver driving a flatbed. They compete in twin trailers; tank trucks (like petroleum haulers); sleeper berths, which are your standard 53-footers; of course, the flatbeds and then the step vans which our guys jokingly call our "bread trucks." Those are your UPS trucks or FedEx trucks, home-delivery type stuff.
Who was the grand champion?
Joseph Mangiaracino of Sullivan.
Did he say he's been practicing in his spare time all year?
He's been practicing quite a bit. Now he's going to start preparing for nationals. It's more than just a driving competition. It's also a competition of your knowledge. You take a written test, you do a pre-trip inspection, and then you have a personal interview. It's fairly intense and nerve-wracking and it's kind of funny to watch these big burly truckers ask to use the restroom and you say, "You can go throw up over in the corner there."
In the personal interview, are they asked questions like, "Tell us about your fondest memory in a sleeper berth?"

I'm not privy to the questions. They're typically some trucking questions but also some things maybe about you or your family, things in the community you're involved in. To some extent they're judging your intelligence. It's something I wish more of the general public got to see because the stereotype that most folks have of the truck driver probably doesn't fit most of the guys in the competition. Go up and talk to them and you'd probably be surprised at how well-read a lot of them are! In fact our grand champion said, "I'm looking forward to getting done with nationals so I can go back to reading something other than a rule book."
And does he get cash money?
He won bragging rights and a huge trophy about as big as he is. And of course the rights to go nationals.