If you love summer more than any other season, the first weekend in June should mean something -- and if you find yourself having fun and spending wee amounts of green, you'll likely remember this weekend fondly while trudging through the slush of February. Here's our best attempt at directing you to cheap fun around St. Louis.
We'll start with a bonus item of our own: For
$5
, you can see more than 60 of the best local bands, from 1 p.m. to midnight on
Sunday
, as part of the
RFT Music Showcase
in the Delmar Loop.
Now for the rest of bargains: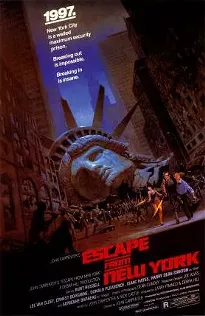 Escape From New York at Union Station (Friday)
Here's a nugget of St. Louis movie trivia that has nothing to do with
George Clooney
: The post-apocalyptic scenes in the 1981 movie
Escape From New York
were filmed in St. Louis, in parts of Union Station, when the old train station was abandoned and nightmarish. On Friday, you can watch that movie at the since-remodeled train station (1820 Market Street.) It's free and the film starts at sunset.
More information
.
7 Shot Screamers at Off Broadway (Friday)
As one of the longest-running and best rockabilly punk acts -- and purveyors of a gritty, engaging live show -- the 7 Shot Screamers take the stage at south side venue Off Broadway on Friday night. For a cover charge of $10, the group is sure to entertain.
More details
by Christian Schaeffer.
Laumeier Sculpture Park's Music + Movies (Friday)
The popular sculpture park in Mid County is showing
The Great Outdoors
, for free, at 8:30 p.m., while Hudson & the Hoo Doo Cats get your weekend started with music at 7 p.m. Alison Sieloff has the rest of the
details about this movie night
in our Calendar section.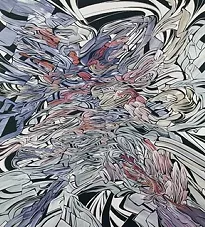 Emilio Perez
A Different Time of Day
Splinter of the Mind's Eye at the Phillip Slein Gallery (Friday)
Curator Joseph R. Wollin uses the rubric of Sci-Fi Ab Ex to describe the work of nine artists who's work goes on display tonight as part of a joint exhibition at this Washington Avenue gallery. It's "science fiction abstract expressionism;" these are painters who imply alien worlds and fractured dimensions without resorting to the representational style of Roger Dean (not to knock Mr. Dean at all). Emilio Perez's
a different time of day
, for example (pictured), is a pulsating knot of ribbon-like shapes writhing outward from the canvas, summoning the grisly biological eructations of Katsuhiro Otomo's
Akira
and the exhilaration of the hyperspace leap from
Star Wars
."
Splinter of the Mind's Eye
opens with a free public reception from 6 to 9 p.m. Friday, June 5. The show remains up through Saturday, July 18, and the gallery is open every day except Sunday and Monday. Let Paul Friswold provide
more details
about this sci-fi inspired gallery opening.
Meet Anthony Rapp of Rent (Friday)

While
RENT is showing at the Fox Theatre
, its original Broadway star Anthony Rapp will appear at the Schlafly branch of the St. Louis Public Library in the Central West End to talk with fans of the musical and sign copies of his memoir,
Without You: A Memoir of Love, Loss and the Musical RENT
. Meet a Broadway star at 4 p.m. -- for free.
More details
.

Bike the Bridges (Saturday)

Sure, you can bike alone, but it's kind of like drinking alone, fun at first but after a while you realize you've got a problem. So, if you're an early-riser, meet like-minded riders and "bike the bridges" at 8 a.m. -- starting from the Gateway Arch. Choose your exhilarating route: the Eads Bridge (4.5 miles), the McKinley Bridge (8 miles) and the Chain of Rocks Bridge (26 miles). Christian Schaeffer has
more details
. The weather at 8 a.m. in June is some of the best all year, too. And we won't tell anyone if you have a beer for breakfast.

Project Comic Con at the Bridgeton Ramada (Saturday)

For $5, immerse yourself in comics, graphic novels and limited-edition posters and prints for sale at the Ramada in North County. The convention runs from 9 a.m. to 5 p.m. and you'll receive a $2 discount if you show up in costume. Yes, break out the pleather Cat Woman outfit or your sweet
Toxic Avenger
mask and have some fun.
More details
.

Rue 13's Eighth Anniversary Beach Party (Saturday)

"For a nightclub to survive 8 years is like a puppy dog living for 32 years -- each year of a club's life is like 4 dog years. In other words this is no small feat for Rue 13 (1311 Washington Avenue; 314-588-7070 or
www.rue13stl.com
), which is celebrating its Eighth Year Anniversary Beach Party Saturday." Let Alison Sieloff give you the
rest of the details
on this $10 party.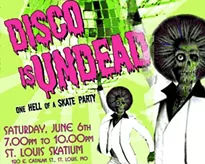 Disco is Undead at the Skatium (Saturday)

Where can you dress like a zombie, get on rollerskates, drink a Busch and flirt while wearing corpse paint? At the the loveably dingy southside roller rink, the Skatium, of course! Parties at this roller rink have a reputation for being fun, this should be no different. Ten bucks gets you in the door, and all ages are welcome but you have to be 21 to drink, natch. The price includes skate rental.
More details
.
International Horseradish Festival in Collinsville (Saturday & Sunday)
The Metro East city that brought us the "World's Largest Ketchup Bottle" and Italian Fest also has celebrated this pungent root for two decades. All your traditional festival contests (washers tournament, a "root derby" and the adorable "Little Miss Horseradish Festival Pageant") are included.
More details
.