Well, it took a day longer than everyone thought it would, but in the end,
not even Mother Nature could stop
Randy Johnson
from winning his 300th game
, joining one of the most exclusive clubs in all of baseball history.
The Big Unit became the 24th player in baseball history to win 300, the first since the recently released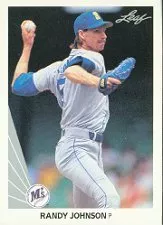 1990 Randy Johnson card by Leaf, from back when he was known for throwing balls to the backstop on a regular basis.
And by the way, how does one go about gettting that as your nickname? That's literally the best nickname ever, and it pisses me off. My nickname in high school was Peach Fuzz, and he gets to be the Big Unit!? Do you have any idea how much easier it would have been to get girls into bed if my name were the Big Unit? Son of a bitch!
Anyhow, my jealousy aside, it is pretty amazing to see anyone reach 300 wins, and I personally have my doubts we'll ever see it again. Of the current crop of pitchers,
CC Sabathia
seems to be the one with the best chance, especially considering he throws a fair number of complete games, but I wonder if pitching in
the new Yankee Stadium Memorial Wind Tunnel
is going to negatively impact the number of wins he's going to be able to get. Just too many variables, too many easy fly balls turning into homers in that park for me to believe a pitcher can win consistently there.
So will Randy Johnson be the last of the 300 game winners? Tough to say, but to be honest, I had my doubts Johnson himself would ever get there, thinking that Glavine might very well be the last. Which, of course, only makes the Unit sticking around long enough to get there all the more impressive. What's especially amazing about Johnson is that he didn't come up as a phenom, winning games left and right from the age of 20. When he first reached the major leagues with Montreal back in 1988, he was known both for his incredible velocity and his incredible wildness, closer to
Nuke Laloosh
than
Bob Gibson
.
To be fair, he did go 4-0 in limited duty that first year, with a 2.43 ERA, so the ability was certainly there. Of course, he then started off the 1989 campaign 0-4, 6.67 before being dealt to Seattle, just to show everyone how far he still had to go.
Over the next few years,
Johnson put up some truly awe-inspiring numbers
, striking out and walking batters in ridiculous (and roughly equal), quantities. In 1991, Johnson threw 201.1 innings. He struck out 228 hitters, gave up only 151 hits, and walked 152. Let that sink in for a second. He gave up more walks than hits, and not in some ten inning stretch like you see relievers do occasionally; no, this was for a full 200 inning season. Randy Johnson may have been the closest thing we've ever had to a
three true outcomes
pitcher this side of
Steve Dalkowski
.
It wasn't until 1993 that Johnson started to put it all together, and became the terror that we've all seen throw smoke for the past decade and a half. He abruptly cut his walk rate dramatically, issuing 99 free passes in 255 innings, while striking out a startling 308 hitters. From there on, it was simply a matter of accumulating the statistics that have made him a first-ballot Hall of Famer.
As much as I've always despised Randy Johnson both for his time with Houston in the late 90s and his part in the 2001 Cardinals' loss to Arizona in the
greatest Divisional Series ever played
, you can't deny what the man has done. He's one of the best to ever put on a glove, and certainly took one of the most unique routes to get there.