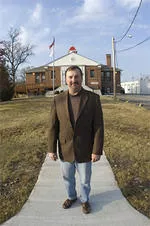 Jennifer Silverberg
Former Valley Park Mayor Jeffery Whitteaker led the fight to pass the anti-illegal immigrant ordinance in 2006
In a ruling that could have national implications, Valley Park's controversial and long-debated ordinance prohibiting city employers from hiring illegal immigrants was unanimously upheld today by a three-judge panel of the
8th U.S. Circuit Court of Appeals
.
The decision affirms a lower court ruling in favor of Valley Park, where Hispanics represent barely 2 percent of the city's population.
The issue has sharply divided Valley Park's 6,500 residents, ever since the ordinance was adopted in 2006, thanks largely to the efforts of Jeffery Whitteaker, then the city's outspoken mayor.
A St. Louis County judge struck down the original ordinance, which would have imposed $500 fines on landlords and employers who rented homes or offered jobs to illegals. Following that setback, the city revised the law again, this time to repeal the rental prohibition, but keeping the provision in regards to employing them.
In a RFT feature story in 2007 that dealt largely with Whitteaker's anti-illegal immigrant vision for Valley Park, Whitteaker, who last year lost his bid for reelection, explained his rationale for spearheading passage of the ordinance.
"My main issue is overcrowding," he said. "You got one guy and his wife that settle down here, have a couple of kids, and before long you have Cousin Puerto Rico and Taco Whoever from moving in."