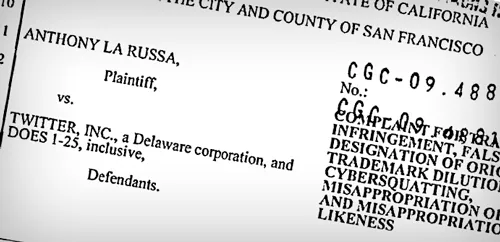 In case you haven't heard by now, St. Louis Cardinals manager
Tony La Russa
thinks
Twitter
violated his trademark because a user set up a fake account on the service using La Russa's name and photo -- and used it to make it look like he was saying some unkind things from time to time.
So the Cardinals' manager -- whose off-season home is in Walnut Creek, California, not far from Twitter HQ in San Francisco -- and his attorneys have decided to take Twitter to court and make them pay for the damage done to the La Russa "brand" that they very likely didn't know anything about.
The problem is, according to the suit that was filed in California, La Russa alleges that Twitter not only knew that his name and image were being used on their service, but that Twitter did it themselves deliberately and with malicious intent.
Don't take my word for it, read the document yourself:
The eight charges in the complaint are:
1. Trademark infringement
2. False Designation Of Origin
3. Trademark Dilution
4. Cybersquating
5. Misappropriation of Name
6. Misappropriation of Likeness
7. Invasion of Pricacy
8. Intentional Misrepresentation
Now the way I understand it -- in my non-lawyerly limited understanding of the law attorneys who know better, PLEASE feel free to correct me in the comments -- if this were a copyright case, under the Digital Millennium Copyright Act, Twitter has some protections as a service provider from being held liable for copyright violations by its users.
But since this is (mostly) a trademark case, that argument could be thrown out the window. This sort of violation falls under the
Lanham Act
which,
according to the blog
that broke the news of the suit, is some legal code that hasn't been updated for the new digital world we all inhabit these days.
But who cares what the law says? The real question is; what do Twitter users think?
BianchiGal:
La Russa is an old man w/out a sense of humor.
justwannawrite
: I would have to side w/ Larussa on this one. Right of Publicity law protects name, image and likeness.
iconjohn
:Twitter, lots of fakes, Larussa is a crybaby! Should have been there a year ago.
DMarioIsajerk
: Im on twitters side. you can't blame twitter for this random persons actions.
onedadslife
: I haven't fully researched this yet, but right now I'm tending towards twitter.
mikeflynn
: twitter. It's not their fault. Should they check your on signup? Give me a break Tony.
sbolen
: It's clearly a parody - it'll be thrown out.