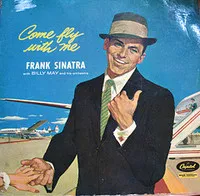 flickr.com/photos/The Picture House
In 1957, amid the true glory days of air travel,
Frank Sinatra
came out with a hit song, "Come Fly With Me," which evoked the glamour and exhilarating anticipation of climbing aboard an airplane.
Come fly with me, lets' fly let's fly away
If you can use some exotic booze
There's a bar in far Bombay
Come fly with me, we'll fly we'll fly away

Yes, Virginia, there was a time when no one dared hop a plane in flip-flops and shorts, when there was ample space in mood-lit cabins, and the food was delicious and served on real dishes and tablecloths, when flight attendants were pampering stewardesses who took pride in memorizing the names of all those who strode in their Sunday best onto 58-passenger DC-7s.
"Flying used to be an event. Now it's like riding a city bus," says Daniel Rust, who has written and published a gorgeous coffee table book, Flying Across America: The Airline Passenger Experience.
The book, rife with pictures of vintage brochures, posters and photographs, covers a lot of historical ground, from the first transcontinental expeditions of the 1920s, to the the unhappy impact of degregulation in 1978 and the increasingly joyless experience of voyaging into the wild blue yonder in the post 9/11 era.
Rust, the assistant director of the Center for Transportation Studies at the University of Missouri -- St. Louis, keeps his primary focus, though, on firsthand accounts of real people recalling the golden age of air travel, which Rust marks as the 1950s to the first days aboard new Boeing 707s and DC-8 liners that marked the dawn of the jet era in the early 1960s.
flickr.com/photos/RetroJason
"People would tell me they actually had to tell stewardesses to stop asking them if they needed anything else," recounts Rust.
One of Rust's more fascination ruminations concerns they manner in which the stewardess became a popular cultural icon. Writes Rust:
In 1965, Braniff purposefully emphasized the stewardesses' sexuality with a ritual called the air strip. Over the course of a flight, a stewardess removed outer layers of clothing until she was dressed only in her skirt and blouse. Airline marketing campaigns of the early 1970s gave full reign to the sexual revolution. The most notorious example came from National Airlines. Its "Fly Me" advertising campaign featuring winsome females on television saying such lines as "I'm Debbie! Fly Me!"

Rust says Boeing next generation of jet flight, the
787 Dreamliner
, will try and resurrect some of those bygone amenity-rich relics of the past -- large windows, bringing up the humidity levels for more comfort and dimmer cabin lighting.
"But I'm sure," says Rust, "there won't be the leg room people once had. Economics, you know. Got to cram in as many as you can."
flickr.com/photos/amphalon

Weather wise it's such a lovely day

You just say the word, and we'll beat the birds

Down to Acapulco Bay

It's perfect, for a flying honeymoon -- they say

Come fly with me, we'll fly we'll fly away