Hulu's launch of
Hulu Desktop
last week might have been the little extra kick in the pants for Google to
announc
e the YouTube version of the ten foot interface (a ten foot interface is a screen menu system that can be viewed and manipulated from across the room like you would on your TV, think cable menus). YouTube's version is called
YouTube XL
and unlike
Hulu Desktop
, which is a stand alone application (Flash based) YouTubeXL it lives inside the browser.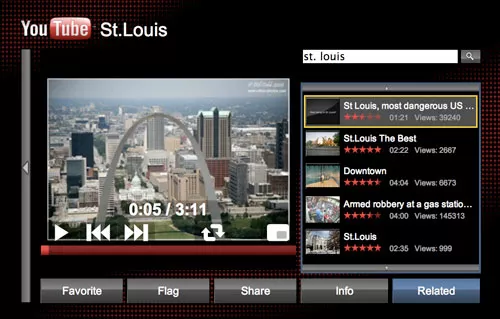 I tested it out and it's interesting, but still a little clunky and awkward. I've always thought that YouTube had one of the ugliest flash video players around, and this interface still looks and feels very much like that YouTube player. It's a first step in the right direction, but it's not nearly as elegant as Hulu Desktop or
Boxee
.
All of these announcements of interfaces that make it easier to watch Internet video on television sized monitors is very interesting. These services are obviously anxious to make the big move from the desktop to the living room.