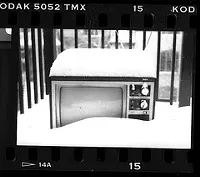 flickr.com/photos/[email protected]
Your TV got snow? I'd like to know. Comment below.
I realize I'm in the minority here being among the
10 percent of the U.S. population
who do not subscribe to satellite or cable television.
But I've got to kvetch to the small fragment of folks out there like me.
Can you pick up local broadcasts through your digital-converter box and antenna?
I bought a converter box way back in February when television stations were
first supposed to switch from analog to digital
broadcasts. (That date has now been pushed back to June 12 -- nine days from today -- even though
most stations have been broadcasting in both analog and digital
for several months now.)
Since February I've purchased three separate antennas that are supposed to pick up digital signals. None of them work better than the ol' rabbit ears that came with my mid-1990s era television. Regardless of which antenna I use, I can hardly pick up any stations here in St. Louis though the digital broadcasts.
The best signals on my TV come from the CBS and WB stations (KMOV and KPLR, respectively) which I can at times tune into without interuption. The other station that comes in fairly well is evangelical preacher Larry Rice's Channel 24, which broadcasts digitally on station 4.2.
The rest of the channels come and go. I'll get a clear image for 10 seconds before the
fragile digital signal
cuts out and leaves the screen looking like one of my childhood
Lite-Brites
. This is the case for NBC affiliate (KSDK), Fox (KTVI) and ABC (KDNL).
I cannot get any feed at all from PBS station (KETC Channel 9).
And that's a real shame from what I hear because KETC offers four different channels through its digital broadcasts. I tried calling KETC's digital help line the other week for answers. They never called me back.
Hopefully come June 12 all local broadcasters will boost the power of their digital signals and I'll be able to tune in. Otherwise, this may be the year I finally break down and pay for cable or satellite. Which leads me to wonder. Is this whole digital convergence thing a conspiracy paid for and backed by cable and satellite providers?
Perhaps. Come to think of it. Maybe I'll stay with my rabbit ears. Larry Rice's station does play some great old shows. Did you know Bill Cosby starred in a 1960s detective show called
I Spy
? He did, and it's a great series. You can catch each night at 10 p.m. on Channel 24. Or as it's known digitally, Channel 4.2.