This week June will be bustin' out all over -- to the sound of music.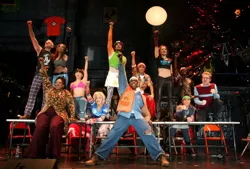 When the Muny kicks into gear in late June, we'll have a new musical almost every week for two months. But this week will see four musicals. Certainly the most publicized is the return engagement of
Rent
, which begins on Tuesday at
the Fox
. This show's appeal has always eluded me. But as Daniel Webster once said of Dartmouth College, "There are those who love it." So this week is for them. On this go-round the 1996 musical is titled
Rent: The Broadway Tour
, owing to the inclusion in the ensemble of three original cast members -- Adam Pascal, Anthony Rapp and Gwen Stewart. I'm sure they won't seem a bit too old for their roles.
Locally,
the Black Rep
has a tradition of closing its season with a musical. This year it's the single-minded revue
Blues in the Night
with jazzy, sometimes bawdy, tunes like "Reckless Blues," "Wild Women Don't Have the Blues" and "Wasted Life Blues." So you know what you're getting before you go in.
Which cannot be said for a first-timer heading to Jason Robert Brown's audacious and lovely two-character exploration of a marriage,
The Last Five Years
, which is being presented by
New Jewish Theatre
.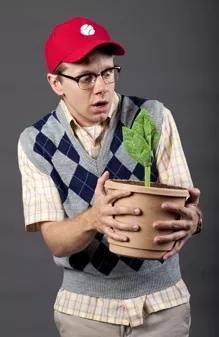 Whitney Curtis | stagesstlouis.org
Ben Nordstrom as Seymour in Stages St. Louis' Little Shop of Horrors
To me, this time-traveling story, in which our two protagonists, Cathy and Jamie, only share one song all evening long, is one of the most original American musicals of the past decade. The CD, featuring off-Broadway cast members Norbert Leo Butz and Sherie Rene Scott, is a delight; anyone planning to see this show for the first time is well advised to listen to the CD often before entering the theater.
Then there is
Little Shop of Horrors
at
Stages St. Louis
. At the ripe old age of 27,
Little Shop
still feels as fresh as if it was written last week. This show gives hope to every aspiring theater composer: If a cheesy Roger Corman comedy, presumably filmed in two days, can be adapted into a successful musical, then there's no such thing as a bad idea. And in the early years of its 1982 off-Broadway run, part of the show's success was linked to the concept of "you're not gonna believe this, but...." A quarter-century and more than 2,200 performances -- not to mention a hit movie, a Broadway revival and umpteen high school stagings -- later, the surprise element is pretty much gone. Now we can appreciate this melodic account of a carnivorous plant run amok for the sheer audacity of its theatricality. Feed me!