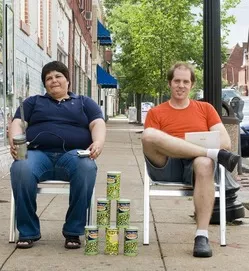 photo by Jennifer Silverberg
Ben West and Minerva Lopez pose with the cans that inspired WasabiNet
In January 2007,
Mayor Francis Slay
announced
via blog post
that he had hashed out a deal with AT&T to outfit the entire city of St. Louis with low cost wireless Internet. But the agreement, worth an estimated $30 million, fell apart once
word spread
that the city had failed to seek bids from other companies -- and questions arose about how AT&T would power its WiFi antennas.
Now, two and a half years later, a handful of citizens and business owners in St. Louis' Cherokee Street neighborhood have set up their own public WiFi network using grant money, ingenuity, and a stretched-out DSL signal from none other than AT&T.
The service is called
WasabiNet
and it is billed as a publicly owned and maintained "wireless Internet co-operative."
It's powered by a series of inexpensive DSL routers that beam a WiFi signal around the neighborhood using nifty technology called a "
mesh node network
." It currently boasts download speeds of up to three megabytes per second.
It costs about $10 a month to join and it is set to jump2 in size from six subscribers to about 30 in the coming weeks. Coverage spans from Minnesota to California Avenues, but the network's creator,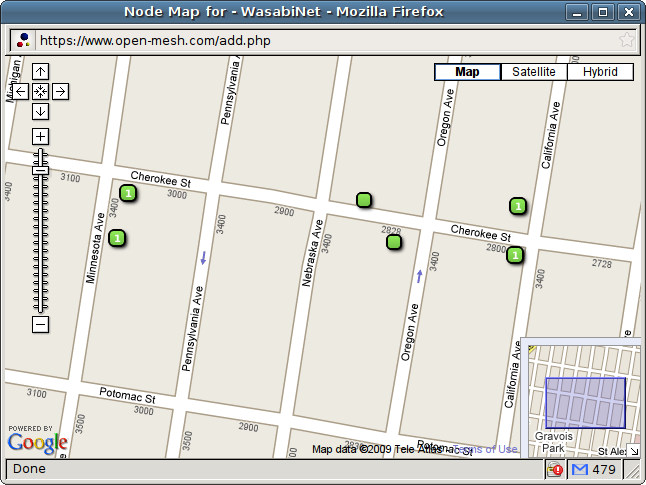 A map of the current WiFi "nodes" on Cherokee Street's WasabiNet
West, an electrical and computer engineer, says the name comes from
a makeshift WiFi antenna
he created using cans of wasabi peas bought from a local market.
"Normally the signal radiates in all 360 degrees but if you use a wave can antenna you can focus it in one direction over miles," he explains. "We're trying to avoid using the long distance antennae but if there's people at end of block and can't get it, sure we'll do that. I have one set up in my house right now."
"It's also kind of a cute name," West adds.
Other cities, such as Champaign, Illinois and
Little Rock, Arkansas
already have mesh node networks in place. West says the system only has the capacity to serve a single neighborhood but he hopes other areas in St. Louis will adopt the idea, which he believes features
benefits that go beyond a steep discount
on the monthly Internet bill.
He says that the network's login page will serve as a "community portal," with news of neighborhood meetings and events. He hopes there will eventually be kiosks on the street to allow visitors to search for a local business' location or hours.
"It's a new class of sites that are trying to backpedal from making the Internet geography irrelevant," West says. "We want to use it to make people aware of their own neighborhood and
build community cohesion, to build up a neighborhood's identity
."
Minerva Lopez
, president of the Cherokee Station Business Association and a collaborator on the project, says the area's Hispanic community was initially skeptical of WasabiNet, but several businesses have recently joined up, including El Torito Supermercado and Taqueria, La Vallesana, and Carniceria Latino Americana.
"I think they're used to seeing bulky routers and cables going all over the walls and ceilings," says Lopez, whose soccer shop
Gooolll
on the corner of Cherokee and California recently went online. "But as I started talking and explaining to them how it worked they got a better understanding and now it's being welcomed with open arms."
WasabiNet's start-up costs were paid for in part by the
Incarnate Word Foundation
, which awarded the project $1,500 grant in 2008. West and Lopez say they're currently applying for other grants to expand the fledgling network.
On the project's website, West writes that the network is not meant to compete with large Internet service providers. Instead, he
compares it to an agricultural co-op
that buys items such as fertilizer or tractors (or in this case Internet service) in bulk from manufacturers in order to cut individual costs.
However, he admits that
the set up is prohibited by AT&T's "Terms of Use"
policy and as the service grows they may have to switch to another provider that doesn't restrict sharing WiFi signals.
"I've not spoken to AT&T about it yet," West says. "I want to be mindful but they have a lot of things in their terms of service they could act on if they wanted to but 99 percent of time they don't."