So how did
Chris Carpenter
look in
his big return
?
Well, he looked like Chris Carpenter, to be completely honest.
Actually, that's not entirely true. He
did
have to get out of a couple jams, after all.
The thing that amazes me about Carpenter, or at least what has amazed me the last couple of years, anyway, is that bizarre ability he has to walk out on to the mound after not pitching for god only knows how long, and immediately step right into that groove. Ordinarily, when you see a pitcher returning from a stay on the disabled list, he'll show some rust at first. He struggles to find the strike zone, struggles to shake the rust off of the breaking ball. Not Carpenter.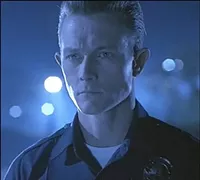 Chris Carpenter, seen here trying to locate Jon Connor after his start last night. He later found Connor and struck him out on a cutter away.
His first four pitches of the game went fastball, curve, curve, fastball. Called strike to
Alfonso Soriano
, two swinging strikes, and a ground ball off the bat of
Ryan Theriot
. Ho hum. Just another day for Carp. Both fastballs came in at 93, and the curves at 75 and 76, respectively. Almost a 20 mile an hour differential, and located perfectly. All this from a guy who hasn't pitched since the middle of April. Just doesn't seem fair, does it?
Of course, he did then give up a five pitch walk to
Fukudome
and a humpback line drive single to
Derrek Lee
, so it wasn't
all
sunshine and roses.
Still, with a final line of 5 IP, 3 H, 0 R, 4 K, 2 BB, it's tough to really complain too very much about anything the guy did last night. Even better was the 41 strikes he threw in 67 pitches. And even better than
that
is the fact that we haven't yet heard a single report this morning about Carpenter having soreness anywhere, or that he's going to be reevaluated at any point, or anything else of the sort.
So, to sum up: win against the Cubs- good. Chris Carpenter coming back and throwing darts-
very
good. Chris Carpenter making his next start- so good I might need a towel.