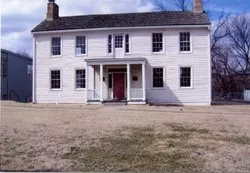 Courtesy of Missouri Preservation
Missouri Preservation is out again with it annual list of Missouri's most endangered historical properties. Cracking the lineup again is the James Collier Marshall Home -- often referred to as the
Fairfax House
-- at 9401 Manchester Boulevard in Rock Hill.
In observance of National Preservation Month, the full slate of nine endangered sites was unveiled (click here for complete list) in Hannibal at the Pilaster House -- also on the list, and known, too, as Dr. Grant's Drug Store.
"When we put this list together, we are not only looking at buildings that may not be physically sound or falling down," explains Missouri Preservation Board President Karen Bode Baxter. "But we also took to see if, like in the case of the Rock Hill house, it is being threatened by commerical development."
Built between 1830 and 1841, the Greek Revival structure in Rock Hill home was constructed by James Marshall, who named it Fairfax in honor of his Fairfax, Virginia-bred wife, Elizabeth McCausland. The timber frame home, which has fallen into disrepair and is in need of extensive restoration, represents the very early history of the area.