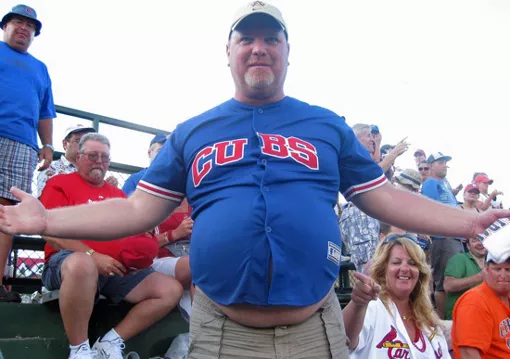 There are five really good reasons why the Cubs are going to win the NL Central in '09, and there are five pretty good reasons why they won't. There are 100 reasons why this guy shouldn't be wearing that jersey.
The Cardinals are in full free-fall mode, having just been swept by the Milwaukee Brewers, and now they get to host the
Chicago Cubs
, defending division champs, as a reward. The longest streak without a championship continues into 2009 -- any drunk Cardinal fans can be heard squawking "1908!" during this series -- but is this the Cubs' year?
They've certainly not run away and hidden with the division so far the way many of the national analysts predicted; in fact, at the moment, they're not even leading the race. Of course, who is leading in May doesn't really mean all that much. So is Chicago still the team to beat?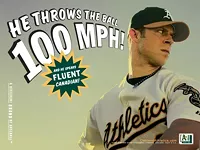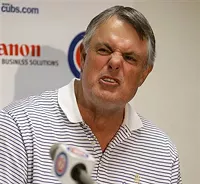 4. Big Z's Odometer is Just About to Turn Ove
r Again

Let's face it:
Carlos Zambrano's arm has a lot of miles on it
. In 2003, at the age of 22, Z threw 214 innings. He didn't dip below the 200 IP mark again until last season, when he threw 188.2. And remember, several of those years were under Dusty Baker, who routinely would ride his horses for 120+ pitches in an outing. That's a lot of wear and tear on a pitching arm, and it may be beginning to show. Zambrano's K/9 has fallen off in recent seasons, from a high of 8.8 in 2006 to just 6.2 last year. He is back up to 7.8 this season, but he's also been more hittable than ever this year, giving up more hits (40), than innings pitched (38), something he's never done over the course of a full season before. Zambrano has been a big, durable workhorse for the Cubs in his career, but all those innings come with a price. He may not be anywhere near a breakdown, but it certainly wouldn't be a complete shock if he were.
5. The Bullpen is a Real Problem-
One of the biggest strengths of the Cubbies last year was their bullpen, with
Kerry Wood
closing out games,
Carlos Marmol
throwing absolute shutdown ball in a setup/ fireman role, and
Jeff Samardzija
doing yeoman's work in the earlier innings. This year, Wood is closing games for Cleveland, Samarzija is back in the minors, attempting to become a starting pitcher, and Marmol, while still occasionally dominant, hasn't been nearly the force he was in 2008.
Kevin Gregg
, acquired in the offseason from the Marlins to serve as primary closer, has been hit and miss so far, coming nowhere near replacing Wood's level of dominance. Add in some very questionable middle relief, and suddenly what was a huge strength in 2008 has become a definite question mark for the Cubs this year. We've seen firsthand what a bad bullpen can do to an otherwise good team here in St. Louis; how well the Cubs can finish out games is going to key to whether their season ends up being yet another in a string of recent success, or just one more frustrating season in Chicago.
Bottom line, the Cubs are still the defending champs, and that does mean something. How much is tough to say, but at the very least, the road to winning the division runs through Wrigley Field. If the Cardinals, or the Brewers, or the Reds, or anyone else wants to win this division, they're going to have to take it from the Cubs. All the same, though, there are some definite cracks beginning to show in this Cub team, a result of a team that's aging rather quickly, and still has an awfully large amount of money tied up in those aging players.