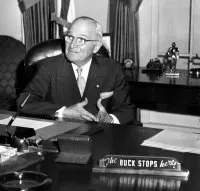 Harry Truman and his "The Buck Stops Here" placard.
Have you heard this one already?
Matt Blunt's attorneys are asking the court to
replace their client
with Governor Jay Nixon in a lawsuit accusing the former governor of defamation and wrongful termination in the firing of political aide Scott Eckersley.
Eckersley claims he was wrongly fired in 2007 after raising concerns that Blunt's office was not following the Sunshine Law in its e-mail practices. The former aide also claims he was defamed by Blunt and his former colleagues.
Blunt's attorneys now want to pass the buck to Nixon because they say their client was sued in his official capacity as governor. Now that Nixon holds that title, he should be the defendant.
Eckersley's attorneys, meanwhile, have replied -- and I'm paraphrasing here -- "bullshit."
Trivia note:
The back of Harry Truman's famous
"The Buck Stops Here"
sign, said: "I'm from Missouri."