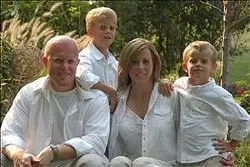 As of this writing police have yet to name a suspect in the
horrific strangulation deaths
last week of 31-year-old Sheri Coleman and her two children Garett, 11, and Gavin, 9.
But it's not looking good for Coleman's husband, Christopher Coleman.
Today the
Post-Dispatch reports
that Coleman keeps a girlfriend in Florida. The unnamed woman was a friend of his wife Sheri, having graduated a year below her from a Largo, Florida, high school. Police flew to Florida last week to interview the woman. The daily reports that she is a divorcee who has worked in a bar and as a hostess for a Tampa strip club.
Coleman's attorneys, the father-son criminal defense team of Art and William Margulis, declined to comment about their client's alleged affair.
On Monday of this week the Major Case Squad
brought Coleman in for fingerprinting
. Coleman claims he was at the gym early on the morning of May 5 when an unknown assailant broke into the family home in Columbia, Illinois, and murdered his wife and children.
In the weeks prior to the slayings, Coleman had complained of threats to his family from an anonymous source that he said were related to his job as a security guard for the
Joyce Meyer Ministries
.
You gotta wonder (if you haven't already): Were those alleged threats legitimate, or part of an elaborate alibi?