A smattering of about 200 people attended a funeral this morning for Mickey Carroll, who until
his death last week at the age of 89
was one of the last remaining Munchkins from the
Wizard of Oz
.
At a service in the cavernous
St. Louis Cathedral Basilica
, Carroll -- born Michael Finocchiaro -- was remembered as a man who was both charitable with his time and money.
"Many of you, if not all of you, are here because of Mickey's tremendous charity and his focus on others and not himself," said Monsignor Joseph Pins. "Mickey lived life bigger than this world, and now we pray that God will give him that life bigger than this world and forever."
Photo: Chad Garrison
Yes, Mickey was laid to rest in a full-sized coffin.
In a eulogy, longtime friend Bob Cradock recalled how he and Carroll both grew up the sons of stone carvers, and that Carroll was a consummate salesman when he later took over the family business.
"Just try to get out of Standard Monument without buying a headstone," said Cradock, who encouraged everyone in attendance to "follow Mickey on that Yellow Brick Road of helping others."
Perhaps more interesting than the service itself, though, were the names who did
not
attend the service or
barely made it
.
Photo: Chad Garrison
A mourner outside the cathederal today.
Listed in the program as "honorary pall bearers" were current and former Cardinals players Albert Pujols and Jim Edmonds. (Carroll was a vocal advocate and donor to the slugger's
Pujols Family Foundation
.)
Pujols is in Pittsburgh today with the ball club and could not attend the ceremony. As for Edmonds? Who knows.
In other news, Carroll's longtime caretaker Linda Dodge arrived somewhat last-minute to the funeral. Last week Caroll's niece, Janet Finocchiaro, of Dallas, Texas, filed suit against Dodge over the ex-Munchkin's estate -- estimated at $1 million. Prior to his death, Carroll signed over his estate to Dodge.
This very morning, according to court documents, Finocchiaro filed a temporary restraining order against Dodge.
After the funeral Dodge declined to comment on the case. Janet Finocchiaro, who sat in the front row with her family during the service, promptly departed from the front of the church following the ceremony.
The guy pictured above stuck around for awhile. Art Jackson, of the Central West End, says his family knew Mickey and he appreciated how he "never forgot St. Louis."
Photo: Chad Garrison
No yellow brick road, but there was a yellow hearse.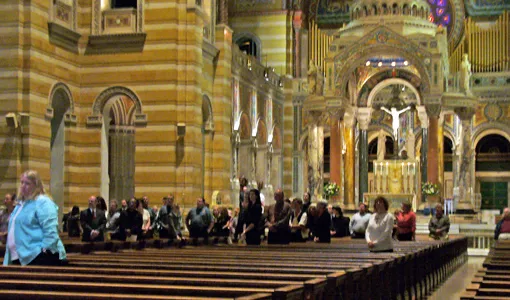 Photo: Chad Garrison
Mickey's funeral in St. Louis' largest church.
R.I.P. Mickey.