It was the summer of 1953.
Queen Elizabeth had just been cornonated
. The Braves had left Boston for Milwaukee, and Elvis was making his first recording. Back in Independence, Missouri, meanwhile, there was
Harry Truman
, restless in his first months of presidential retirement and itchy as a tick bite to make the transition into civilian-hood.
A cross-country road trip in his brand new Chrysler New Yorker, thought Truman, would help pave the way for him to become "Citizen Truman" after eight grueling years in the White House. And what a long, strange -- and delightful -- nineteen days it was. Put it this way: Harry and Bess were quite a roadside attraction.

Matthew Algeo's book, Harry Truman's Excellent Adventure: The True Story of a Great American Road Trip, is a charming and engrossing account of the 2,500-mile Truman voyage in a bygone era, back in the golden age of the automobile, and several years before the Interstate Highway system would forever change the way we travel.
Hard to imagine now, but in 1953, notes Algeo, an ex-president received no government-provided office space, no pension, no staff and no Secret Service protection. As for Truman, his only income was a $111.96 monthly army pension. In fact, he was forced to get a bank loan to make ends meet. All the while, Truman, not wanting to "commercialize" the presidency, assiduously refused to accept speaking fees or accepting lucrative business offers
"So as you can see, Truman needed to be a frugal traveler," says Algeo. "Everywhere, they ate at cheap diners -- lots of fruit plates and ice tea. They stayed at cheap motels or stayed with friends along the way. It was not an extravagant trip."
Truman, adds Algeo, "never thought the trip would be a big deal. Unlike Bess, he didn't think anyone would notice him, really, or if they did, care about it. He thought he could travel incognito. You know, back then, there was no TV to speak of, and we didn't quite know a president like we do today."
A freelance writer who lives with his wife in Rome, Italy, Algeo says the idea for the book began to germinate during a visit to the Truman Library in 1998 when he was employed as a reporter with National Public Radio affiliate KWMU (90.7 FM). Algeo was working on a documentary on Truman's 1948 whistle-stop campaign and came upon a newspaper clipping of the trip from Independence to New York, with a caption that read: "Happy Harry, Motoring Eastward."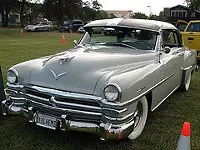 A 1953 Chrysler New Yorker
Truman loved to drive, recounts Alego -- and changing the oil, which he did every 1,000 miles on his famous road trip. He also had a tendency of daydreaming when behind the wheel. Alego tells the story of a state trooper named Manley Stampler, while patrolling a lonely stretch of a Pennsylvania turnpike, spots Truman's gleaming black Chrysler with a line of cars behind it.
Stampler ordered the Chrysler to to pull over and stepped out of his cruiser. Writes Alego:
"When he reached the driver's window, he bent down and peered inside. Behind the wheel was a white male, mid-to late sixities, round face, big round-rimmed glasses, close cropped gray hair. Seated next to him was a matronly woman, persumably his wife, looking slightly perturbed.

Stampler immediately recognized the couple as Harry and Bess Truman. Until very recently they had been the president and first lady of the United States of America. Now they were in custody of Trooper Manley Stampler.

"Shit," Stampler thought to himself. "What I am gonna do now?"

Harry later claimed that the only reason the trooper pulled him over was to "shake hands."

Alego will be talking about his book today (Tuesday, May 12) at Barnes & Noble in Fenton, and then again Thursday at Pudd'nhead Books in Webster Groves. Click here for details.