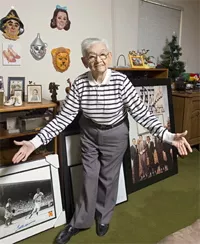 Photo: Jennifer Silverberg
Mickey Carroll's story came in at the fourth most-read last week.
The blog posts come fast and furious, most of the time, here on
Daily RFT
, so if you missed the big ones from last week (May 4-10), here are the top ten most-read posts, courtesy of your friends at Google Analytics.
1.
The Five Most Offensive Cardinals-Cubs Shirts
Writer Keegan Hamilton, with the help of silly sports blog
Deadspin
, runs 'em down, including the "Zambrano Mows My Lawn" shirt. Yikes.
2.
Chuck E. Cheese Boob Grab Revealed! The Photo That Prompted a Lawsuit
Thanks to a sharp-eyed reader, we published that photo that sparked a lawsuit. Do you think Chuck E. was in the wrong?
3.
Big Black of MTV's 'Rob and Big' Gets Frank in Q&A
An evergreen interview with Big Black from MTV's
Rob and Big
, with comments that are guaranteed to melt your faith in humanity.
4.
Fallen Star: Munchkin Mickey Carroll Comes Up Short
Our story from 2007 about Carroll's failed bid to get a star on the St. Louis Walk of Fame got lots of hits, following his death last week. He was of one of the last living Munchkins from the
Wizard of Oz
.
5.
Anyone Recognize This City? It's Not St. Louis -- Though You'd Think It Would Be
It's actually a photo of Back Bay in Boston. Thanks to Calendar Editor
Paul Friswold
for solving the mystery. First check out the photos in
our link
and then match them up to this woman's blog:
pbase.com/jstenman/boston
.
6.
Three Dead After Late-Night Shootout Downtown
Memphis rapper Yo Gotti held a birthday party at Club Society downtown. Afterward, three men were gunned down after leaving the event. Guess you could say it was a "killer party" last Thursday.
7.
Taxidermy: It's an Art. And It's All Over St. Charles This Week
From the outrageous (gorillas and sharks) to the mundane (white tail deer) to the bizarre (a fawn sucking a bottle while being held by a mannequin's arm clothed in -- of course -- flannel), some of the world's best taxidermy was on display in St. Chuck.
8.
Controversy Brewing Over Soulard Oktoberfest
Soulard residents and Alderwoman Phyllis Young want the October drinking festival out of the Soulard Farmer's Market. There's piss in the street and puke in the planters, say detractors of the event.
9.
Brewster McCracken Wins! Austin Mayoral Candidate is "Ass Clown of the Week"
Austin mayoral candidate and owner of old-timey name Brewster McCracken may have
dropped out
of the race to be Austin's next mayor, but not before the readers of
Daily RFT
could vote him as the top
Ass Clown of the Week
.
10.
Congressman Lacy Clay Files for Divorce and a Democratic Loyalist Does What He Can to Help
When a
reporter
tried to obtain the divorce filings for Clay, party loyalist Mariano Favazza denied his request until the files could be sealed. So much for open courts and freedom of information.