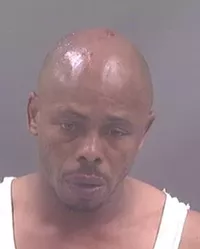 Photo: St. Louis Metropolitan Police Department
Harold Lee Ford
Harold Lee Ford, 43, of the 10600 block of Foxlair Drive in north St. Louis County was charged with five felonies from an
incident
this week in the Tower Grove South Neighborhood.
Ford was allegedly driving erratically in a stolen car early Wednesday morning when police began to to pursue him. Ford later entered the wrong direction of a one-way street and crashed his vehicle. When the police arrived on the scene, Lee allegedly fired shots into the window of the police cruiser, wounding one officer.
He is charged with two counts of armed criminal action, two counts of assault on a law enforcement officer and one count of discharging a firearm at a motor vehicle. He is being held on a $75,000 cash-only bond.
The police report that Ford was on parole at the time of this incident. He'd been sentenced in 1992 to twenty years for first-degree robbery.