Today the world mourns the death of comedian
Dom DeLuise
, who passed away after a long illness.
Unreal mourns DeLuise too -- as we have mourned all of those who co-starred with him in
Blazing Saddles
and preceded him in death. Unreal is by no means a cineaste -- heck, we'd sooner bowl than watch a movie (any movie) -- but
Blazing Saddles
, a work of movie-making genius, occupies a special place in our heart.
Here's the thing you might be asking yourself, though: Dom DeLuise is not from St. Louis. Dom DeLuise has nada to do with St. Louis.
Blazing Saddles
has nothing to do with St. Louis, either. So why is Unreal hogging prominent
RFT
website real estate while having a good cry over the man's portly corpse?
Here's why: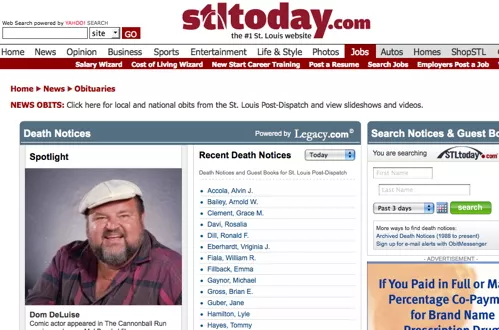 Unreal knew the
St. Louis Post-Dispatch
was "partnering" with an outfit called
Legacy.com
to provide online obits. But we'd previously assumed the clientele was limited to the local citizenry. You know, a web-based version of the paid obituaries you see in most (if not all) print dailies.
The inDOMitable Dom DeLuise (right), in Blazing Saddles (with the also-late-great Slim Pickens)
We never knew until today that whilst perusing the
Associated Press obituaries
of celebrities and other luminaries from around the globe we could, with a mere click of the ol' Logitech, post our own tribute in a virtual "guestbook" alongside similar heartfelt expressions of sympathy from folks all over!
How frickin' cool is that?

When we get finished waxing rhapsodic over
Dom DeLuise
, we're gonna buzz on over to
Bea Arthur
's guestbook, and
Jack Kemp
's.
By then we'll be all cried out.
Which reminds us -- the surviving star-studded cast of
Blazing Saddles
is thinning by the day...
Cleavon Little
(Bart)
Gene Wilder (Jim)
Slim Pickens
(Taggart)
Harvey Korman
(Hedley Lamarr)
Madeline Kahn
(Lili Von Shtupp)
Mel Brooks (Governor William J. Lepetomane / Indian Chief)
Burton Gilliam (Lyle)
Alex Karras (Mongo)
David Huddleston (Olson Johnson)
Liam Dunn
(Rev. Johnson)
John Hillerman (Howard Johnson)
George Furth
(Van Johnson)
Jack Starrett
(Gabby Johnson)
Carol Arthur (Harriett Johnson) [she's DeLuise's widow]
Richard Collier
(Dr. Sam Johnson)