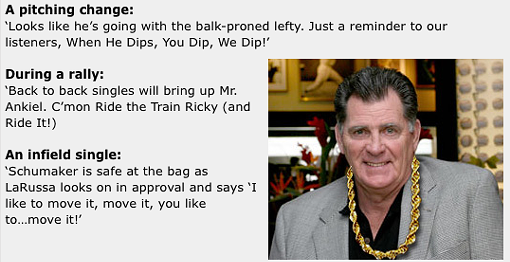 Via InsideSTL
Imagine if you will, Mike Shannon as the color man for the NBA.
Baseball announcers are delightfully, hopelessly behind the times when it comes to coining catch-phrases to describe the on-field action. So much so, that when
young bucks
and
young Bucks
try to roll out a new one-liner, America collectively cocks its head in disgusted curiosity. A few probably
paraphrase Jack Buck
and say to their friends, "I don't believe what I just heard."
But with the excitement over the NBA playoffs reaching its highest level around these parts (thanks to the
Bulls-Celtics soap opera
),
InsideSTL
has wondered aloud what it'd be like if John Rooney or Mike "Hee-hee-hee" Shannon were to try to update their vernacular for the kids. And after reading the funny, but
imagined back-and-forth
between the Cardinals broadcasters, fans should be grateful the next time they hear Shannon's elongated "steeee-ruck him out."