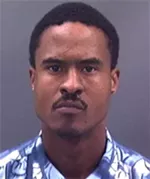 Photo: St. Louis Police
Gilbert Summers
Gilbert Summers, a former employee of Copia Urban Winery and Market, was
sentenced today to five years in federal prison
for the 2007 fire that caused $2.7 million in damages to the Washington Avenue eatery.
Summers was
charged with the crime last year
following a six-month investigation. Apparently he'd been upset with the restaurant about a paycheck issue.
As we reported last summer, Summers has
served time before.
In 2003 he pleaded guilty to a charge of second-degree robbery in St. Louis and received a five-year sentence. He was released on parole on July 11, 2006.