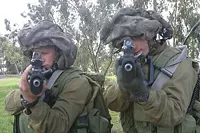 flickr.com/photos/orenrosenfeld
Soldiers in Operation Cast Lead, though probably not Smason.
Though St. Louis may be similar to a war zone, at least according to reigning
Ass Clown of the Week
Brewster McCracken
, 21-year-old soldier Chiyya Smason has chosen to go fight for the Israeli Army.
In return for this noble sacrifice (c'mon, Chiyya, don't you know St. Louis needs you?), the Israeli Defense Forces named Smason one of its
120 outstanding soldiers
at an Israeli Independence Day celebration in Jerusalem last Wednesday, April 29.
Smason is a crew commander in the IDF's artillery corps and served in
Operation Cast Lead
in Gaza last winter. The operation, which effectively put an end to 2008's six-month truce between Israel and Hamas, involved a lot of bombing on both sides and also accusations of war crimes by human rights groups.
Smason moved to
Yokne'am, St. Louis' Israeli sister city, three years ago with the goal of joining the Israeli Army.
"I felt a connection, and I wanted to protect the country. Being in the army is the best way to do it," he told the
Jerusalem Post
.
His father, Ze'ev, is the rabbi at
Nusach Hari B'nai Zion
in University City. He attended
Block Yeshiva High School
and
met his wife
Chagit during an event to bring the singles of Yokne'am and St. Louis together.