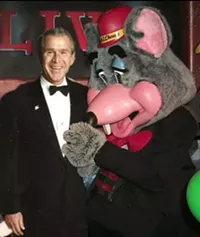 media.photobucket.com/image/chuck e cheese tit/mortaljive
Okay, another Internet mole just sent me this photo.
Unlike the picture of Chuck E. Cheese
allegedly groping a woman in St. Louis
, this photo clearly shows the restaurant-mascot copping a feel on America's 43rd president.
And did Bush
complain or file a lawsuit
? No. He enjoyed it. Hell, he even laughed about it.
Why? Because W. had a
cents
scent
sense of humor. That's why.