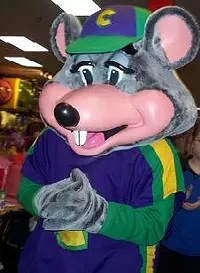 flickr.com/photos/twofivethreetwo
Watch those hands, Chuck E.
Chalk this up as one of those "I wish I were there" moments.
This week 22-year-old
Jennifer Sorbello
of Arnold
filed suit
against child-themed restaurant Chuck E. Cheese,
claiming that its rodent mascot groped her breasts.
St. Louis attorney
Mark Potashnick
tells me this morning that his client was at the restaurant's South County location back in August 2008 when employee
William Thigpen
, dressed like Chuck E. Cheese, grabbed her breast.
"She was standing there attending a birthday party," says the attorney. "She was completely shocked and stunned."
Later that day, Sorbello's stepfather developed pictures of the birthday party only to discover that he'd captured the alleged groping on film. Potashnick says his client has been attempting to address the matter with the restaurant ever since.
"Chuck E. Cheese never took it seriously and never apologized,"
he says
.

The suit is asking for an unspecified amount of compensation and punitive damages. Potashnick said he could not share with me the photo of his client being fondled by the mascot as it was "too embarrassing for her."
That said,
I've heard that a copy of the picture has apparently found its way online
this morning.
A gold star to the first person who finds it and sends me a link
.