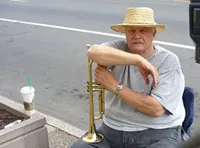 A sure sign of spring: Al Estes
Like the swallows who return each year to Capistrano, Al Estes is back on the Loop. You'll find him, as always, right out in front of Fitz's, trumpet pressed to lips, sheet music fastened with clothes holders to an old metal music stand, tip jar at his feet, and a straw hat warding off the rays.
The 68-year-old Estes has been a U. City mainstay for nearly eight years now. He's out there just about every day, and sometimes even on winter days. "Yeah, sometimes I need the money," he says.
"I've played professionally all my life," Estes adds, taking a short break from a sputtering stream of jazz riffs that leaves him winded. "Yeah, I played with the Glenn Miller Orchestra in the sixties. I've done Broadway shows, played Atlantic City, been with Latin bands."

(Seems hard to believe, but I'll let it be.)

"I'm mainly a jazz player now," continues Estes, who has lived in St. Louis since 1974. Cracking a smile, the old trumpeter looks down at the tip jar that contains two dollar bills and some change. "This," he laments, "might be the slowest day I've ever had out here."
As far as tips go, "you can't figure them. You just can't figure them."
That said, Estes raises his trumpet and let's forth a mighty blow. Not much sound is forthcoming. He was better, of course, in the '60s.