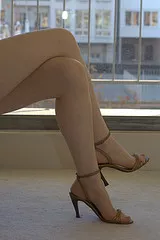 flickr.com/photos/etherealgoddess
As a prophylactic measure against possible violence between supporters of
Kenya
's president Mwai Kibaki and prime minister Raila Odinga, several Kenyan women's groups have called for a week-long sex strike.
Kibaki and Odinga teamed up to form a coalition government early last year in order to stem a wave of inter-tribal violence that erupted after the general election in late 2007 and killed 1,500 people. But now relations have turned sour, with Odinga claiming he has no voice in national policy and was also not provided with a toilet during an official visit.
"Great decisions are made during pillow talk," claims Patricia Nyaundi, executive director of the Federation of Women Lawyers, "so we are asking the two ladies at that intimate moment to ask their husbands: 'Darling can you do something for Kenya?'"
Both Lucy Kibaki and Ida Odinga, the wives of the president and prime minister, respectively, have been invited to participate in the sex ban. The Women's Development Organization has pledged to compensate prostitutes for any lost income during the week of abstinence.
This strategy was first introduced in the ancient Greek comedy
Lysistrata
, wherein the women of Athens withheld sex from their husbands in order to end the Peloponnesian War. In the play it was successful, but it doesn't always seem to work in real life.
For instance, a
ten-day sex strike
in September 2006 among the women of Pereira, Colombia, to end gang violence had no apparent affect on the murder rate.
Anne Waithera, the BBC's Nairobi corresondent, has her doubts that the sex ban will have much success in Kenya. Says the BBC: "Our correspondent says some would argue that Kenyan men cannot even abstain for two days."
God, that must be rough.