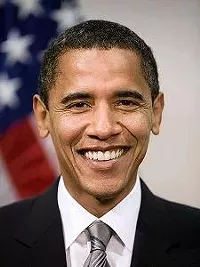 10:25: Hello everybody! Have a seat

10:26: It's good to be out of Washington and back in the Midwest! Yes. I love you, too!

10:27: Obama gives shouts out to Senator Claire McCaskill, Governor Jay Nixon, Secretary of State Robin Carnahan, State Auditor Susan Montee, and everyone at Fox High School. Thanks Warriors for the b-ball jersey. "I will wear with pride."

10:29: Did Obama just say Missou-rah not Missouri?

10:30: Yes, he did. Good gawd!

10:31: My campaign was rooted in towns just like this one. Grounded in sense of unity and sense of purpose for every single American.

10:33: Today on my 100th day, I've come back to report to you, the American people, that we're picking ourselves up. Dusting us off.


10:35: In Jefferson City over 2,500 jobs will be created on a wind farm. (Really?) Across the state 20,000 jobs will be created on infrastructure. We've cut taxes for 95 percent of households. Championing law for women -- equal pay for equal work.
10:38: Some of the people in Washington are surprised. Say he's so ambitious. But there should be no surprise. Things we're doing now are plans we talked about on the campaign for two years in places like this.
10:39: After 100 days, I'm pleased with the progress we've made. But I'm not satisfied. And I know you aren't either. We have a long journey ahead. Our progress needs to be measured over progress over months and years not the minute-by-minute talk of the media.
10:42: We can't rest until we have schools that prepare our students for the challenges of the 21st century...We are going to seek the goal once again of having the highest percentage in the world of college graduates. We're going to do it by 2020.
10:44: Ideals must meet our morals. That's why I've closed Guantanamo, banned torture.
10:45: We're living in challenging times. We didn't choose them. But the answer to our problems will ultimately be found in the character of the American people. That's why I will continue to ask for your help and support.
10:46: I believe looking back this will be a time that we note that American came together to reclaim their future. Applause....
10:47: Okay, now the fun part. Going to answer questions. No one has been screened. Going to take questions boy, girl, boy, girl to be fair. Okay.
10:48: First question: Retired autoworker from GM. Wants to know how it will leave retirees and pensioners.
10:50: Obama: Let me talk about autos. I believe that the U.S. should have a strong auto industry. I want us to get back to making things -- not just shuffling paper around. The decision made over decades put auto industry in bad spot. My concern is that plan puts them back on track so they can compete. HE'S RAMBLING A BIT HERE...First plans automakers presented weren't realistic. Can't give taxpayers every few months give car makers billions of dollars. Workers at Chrysler I know have made enormous sacrifices. I can tell you no matter what happens we want to provide guarantees to retirees for their pensions. That will be expensive. But my attitude is that we didn't get here because the workers hard work. It was poor management decisions.
10:54: Woman in pink asks: I'm a school counselor. President Obama what is the biggest education concern for you?
10:55: Our children are going through school with lower scores in math and science. If we can't compete on technology, over times other countries will get richer and we'll get poorer. We need to upgrade across board the performance of young people. Single most important ingredient is the quality of the teachers. (Mild applause.)
10:59: I want to increase teacher pay. (Much larger applause.) I'm a union guy. (Less applause.) If you got a bad teacher who doesn't perform up to stuff, we got to provide that person a new job. (Students applaud!)
11:01: Where's Jim Lehrer? Isn't he in town? We need a monitor to bang the gong on this education issue. Move Obama along. Ooops. Obama just said he needs to shut up. "I could go on on this about forever."
11:02: Now contradicts earlier statement by saying that the No. 1 issue in education is the parent. Government can't force parent to turn off the TV and force kids to do the homework. But...
11:04: Next question for guy in tie -- VP of junior class at Fox. Wants to know how Obama will guarantee Social Security for upcoming generations. Zzzzzzz.
11:05: Obama launches into a Social Security 101 lesson. Here we go...
11:07: Fighting sleep. Must stay awake...
11:08: Oh wait, a jokey: Obama says he doesn't want to increase retirement age, unless you're a U.S. Senator 'cause they really don't work all that much anyway.
11:10: Still talking Social Security. Someone get this kid a subscription to AARP Magazine. Let's end this conversation already.
11:12: Obama mentions tea party protestors: "I know there are certain news channels on which I'm not popular and you see folks waving tea bags around, I'm open to having a serious conversation about health care and other issues with them, but let's not play games and pretend that the reason is the Recovery Act. That's just fraction of our problems." I know you're hearing all this talk: Oh, Obama is raising the debt spending all this money, "blah, blah, blah." We'll let me tell you something. I inherited a 1.2 trillion debt.
11:15: Next question from masseuse and acupuncturist, who offers to give Obama a rub down. Wants to know how alternative medicine will fit into president's healthcare initiative.
11:18: Obama says he's all for preventive medicine. Doesn't mention anything about medical marijuana. That's alternative, no?
11:20: Question from Baptist preacher on foreign policy. Wants to know about addressing poverty in Africa -- Somalia and the like.
11:20: Obama...Somehow talking about taking troops out of Iraq. Note: Iraq is
not
in Africa. Now talking about Afghanistan and Pakistan. Says he has obligation to take on bin Laden and his "cronies" so they can't set up camps.
11:22: Now back on target. We can't abandon other areas of the world. Just sent diplomat to Sudan to assist that country. But there are a lot of countries not just in Africa that need our help.
11:23: People ask me why should we help other countries. It's probably the biggest complaint we get. But we give less than 1 percent of budget to foreign-aid. Less than many other developed countries. But we do it because we can advance our foreign interests. It is importan tool for our security interests.
11:26: Also, issues cross borders. Look at the swine flu. It's here now. People get on planes. You can't just dig a moat around America.
11:27: Last question. Sorry, I'm going with a student 'cause this is their school. A fourth grader asks, how is your administration going to be more environmentally friendly?
11:29: We passed a bill to create more public space that is environmentally protected from logging and other uses. I feel that will be very important. There doesn't need to be contradiction between jobs and environment, we just need to be smart about it.
11:30: Too many times these conversations are all or nothing. Have people saying we must pollute etc. to fuel economy. Then you have people hugging trees. There needs to be give and take.
11:32: Climate change, though, is a very real concern. Average person thinks, Yeah that's a drag but not really priority. People think it just has to do with polar bears. This is no joke.
11:35: Don't think the fourth grader who asked the question has any freaking idea what Obama is talking about. Drilling, battery technology, solar power.
11:37: And...it's over. Real quick. "All right everybody. I had a good time. Thank you!"