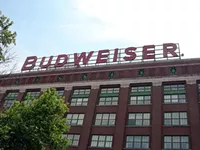 flickr.com/photos/tojosan
The
Wall Street Journal
features a
front-page story
today on the shakeup since InBev's acquisition of Anheuser-Busch last year.
The paper notes that the brewer managed to
increase its market share
three-quarters of a percentage point in the first quarter of this year (the first full quarter since the acquisition). However, not everyone over on Pestalozzi Street is happy with the penny-pinching that's driving productivity.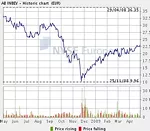 Click chart for larger version.
The combined company has fired 1,400 workers since the merger. Those who've remained are doing so without the old perks. Employees are asked to make double-side photocopies to save money, give up their Blackberries and -- even worse -- finding it more and more difficult to get freebie beer for themselves and charity events. In 2012 the company will stop making contributions to employees' pension plans.
David Peacock, head of U.S. operations for Anheuser-Busch InBev, tells
WSJ
that he's aware of the bellyaching. "I think there's some truth...Some people react very well, some people struggle with it."
The article begins by describing how Inbev did away with the luxurious executive offices at the brewery -- a topic
I wrote about
back in January.
Construction crews arrived at One Busch Place a few months ago and demolished the ornate executive suites at Anheuser-Busch Cos. In their place the workers built a sea of desks, where executives and others now work a few feet apart.



It is just one piece of a sweeping makeover of the iconic American brewer by InBev, the Belgian company that bought Anheuser-Busch last fall. In about six months, InBev has turned a family-led company that spared little expense into one that is focused intently on cost-cutting and profit margins, while rethinking the way it sells beer...

The former executive-suite floor at the North American headquarters now resembles a packed trading room, which the company says fosters smoother communication. "My emails are probably down by a third because you are having a lot of quick discussions," said Mr. Peacock the president of the U.S. division.