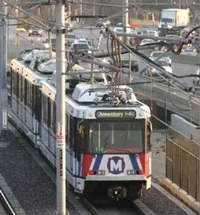 There's no
crime associated with MetroLink
. Right?
Try telling that to the people who've been mugged recently at or near MetroLink stations in the Metro East. Police report at least five separate robberies have occcurred near the light-rail stations just this month.
The
latest happened last night
around 11 p.m. at the St. Clair Avenue station in Fairview Heights. That robbery comes on the heels of an
arrest last week
of 17-year-old Ervin T. Gilkey Jr., who police have charged with aggravated and/or attempted robbery in three separate incidents this month near the Swansea MetroLink station.
Victims in several of those robberies describe their attackers as being two black males between the ages of 16 to 18.
Oh wait. I forgot. We shouldn't report such things.
People get angry.