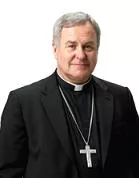 saginaw.org
The new archbishop, Robert Carlson
The Vatican
announced this morning
that Pope Benedict XVI has appointed
Robert J. Carlson
, bishop of the diocese of Saginaw, Michigan, as archbishop of St. Louis. He will serve as the city's tenth bishop and ninth archbishop.
Carlson, 64, has served as the bishop of Saginaw since 2005. He was born in 1944 in Minneapolis and ordained to the priesthood in 1979 for the archdiocese of St. Paul and Minneapolis.
Prior to taking over in Saginaw, Carlson served as the bishop of Sioux Falls, South Dakota, where he got into a public spat with former Senator Tom Daschle over the politician's pro-abortion stance. In 2003
Carlson sent Daschle a letter
informing the South Dakota senator to remove any references to his Catholicism from his biography.
Carlson will be introduced to the St. Louis diocese this morning. He replaces
Raymond Burke
who left last year to work at the Vatican.