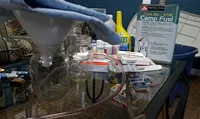 flickr.com/photos/cliche
Obama: Home for the holi-daze?
That's right. Word is that the President Barack Obama will
celebrate his 100th day in office
just south of St. Louis in Missouri's Jefferson County.
Last year,
one-in-five meth busts nationwide occurred in Missouri
, with the greatest number of those incidents reported in Jefferson County. The sheriff's department discovered around 200 labs in the rural county in 2008.
Obama
carried Jefferson County
in last fall's presidential election with 50 percent of the vote versus John McCain's 47 percent.
It's yet to be made public where Obama will visit in JeffCo, but let's hope wherever it is it has indoor plumbing and does not reek of
ammonia and phosphine gas
.