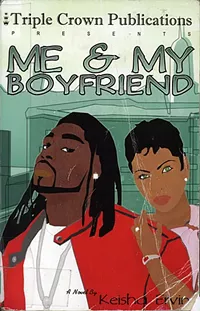 Today marks the publication of my latest cover story,
"Lit Up."
It's a profile of the 27-year-old St. Louis author
Keisha Ervin
, starlet of a wildly popular category of fiction known as
street lit
.
Never heard of the genre? Also known as
urban fiction
,
urban lit
and
ghetto lit
, it's one of the highest-circulating fiction categories at libraries all over the metro area, and sells like hotcakes at area bookstores such as the locally-owned
Black Visions Books
(9971 Lewis and Clark Boulevard) and
First World
(657 Northwest Plaza) as well as at the nationally-owned chains.
It's also pretty controversial. Read the
story
for the details.
Meantime, I thought I'd provide some excerpts from Ervin's books through the next week that the paper is on newsstands.
Today's selection comes from Ervin's first novel,
Me & My Boyfriend
, conceived and written in her mother's basement -- completely unbeknownst to Ervin's family and friends -- and published in early 2004.
It's a love story of St. Louis 20-somethings
Meesa
, an aspiring fashion designer who gives up her dreams to become the baby-mama of
Black
, a hugely successful drug dealer. The couple buys a swish pad in Ladue and births a healthy baby boy, but plenty of things go wrong afterward.
In this scene,
Black
takes a booty call from
Brandy
, a paramour, and
Meesa
stalks it out (
Note:
I have not corrected any of the spelling or grammatical idiosyncrasies in the text.)
Black and Brandy still hooked up occasionally. The girl did some wild tricks in the bed. And her head game was off the chain. They had an understanding that it was strictly sex. Brandy could never be his woman, she was too wild for him. She was only good for one thing and Black got it whenever he wanted it.

Meesa rolled down Ferguson Ave. and spotted Black immediately. He looked like the American flag with all the red, white and blue he had on. He looked good as usual. Meesa didn't look too shabby herself. The fitted brown leather jacked cupped her breast nicely. She had it zipped down to the crease of her chest, exposing her platinum diamond necklace. Her Seven jeans hugged her hips and ass tight, and to top it off, she rocked the Timberland Manolo Boots. The night of ruff sex had messed up her do, so Meesa threw her hair up in a ponytail. Black peeped the truck immediately knowing it was her.

"Damn!" He cursed.

...

"Damn, nigga, ya shit is all fucked up," Perry laughed.

...

"Black, can I talk to to you?" she asked nervously. Knowing the only way to get her to leave was to give her the cold shoulder he did.

"Nah, I'm cool."..."Nah, why you come over here anyway? You know I ain't got nothing to say to you."

Oh hell, no, this nigga must have forgotten who I am. He had a right to be mad, but the attitude had to go. Meesa was not about to be fronted on.

"So, it's like that Black?" Meesa questioned to know where they stood.

"Meesa, I ain't got anything to say to you, so just go home." He spoke, while flicking a cigarette in her direction.

Sucking her teeth, Meesa rolled her eyes in disbelief. Then Brandy pulled up. Stepping out her car, she made her way across the street. All eyes followed her. Wondering what they were staring at, Meesa turned. Brandy walked passed Meesa and up the steps to Black. Knowing that they were no longer together, she kissed Black on the cheek. Black didn't even flinch. His eyes stayed focused on Meesa. Tears stung her eyes, but she held them back.

Eyeing her up and down Brandy grinned.

"Hey ya'all." Brandy spoke.

"What is she doing here Black?" Brandy questioned. The words snapped Meesa back to reality.

"What the fuck do you mean, what am I doing here? Bitch, that right there is all me." Meesa was on fire. She took the steps two at a time in 4 inch stilettos.

"Exactly what I said, what are you doing here? Black invited me over here. So he ain't too much yours." Brandy retorted.

Face to face, Meesa let it be known, "Bitch, I don't give a damn if Jesus himself asked you over here!"

"Who are you calling a bitch? Bitch!" Brandy spat back.

Black grabbed Brandy's neck so fast it shocked everyone. Choking her, he told her, "I don't know who in the fuck you think you talking to, but you need to chill!

"A'ight!" He yelled.

"Man let her go." Kat said, trying his damndest to pull him off of her.

"Remember where you at nigga. People are out here looking and shit!" Calmed down, he loosened his grip.

Brandy gasped for air.

Slap, was all you heard next....