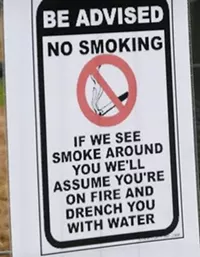 flickr.com/photos/carolinespics
Regional legislators are taking note a
proposed bill in St. Louis City
calling for a ban on smoking in bars and restaurants.
The bill, proposed by Central West End alderwoman
Lyda Krewson
, would not go into effect unless St. Louis County passed a similar ban.
Yesterday, St. Louis County Councilwoman
Barbara Frasier
told
KWMU (90.7 FM)
that such a bill would force the hand of county legislators -- which voted 4-3 against a county-wide smoking ban a few years back.
"Our neighbors in Illinois, and Iowa and Nebraska and Arkansas all have smoking ban and smoke-free legislation," said Fraser. "So, if the city passes one, there is no doubt in mind that the county council would be under more pressure to pass a ban."