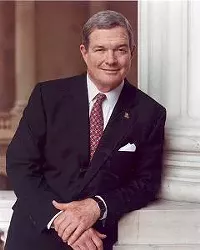 Citizens Against Government Waste
is out with its
2009 Congressional Pig Book
.
The agency names
Sen. Kit Bond
as the biggest pork spender in Missouri. According to to the book, Bond appropriated more than $30 million in earmarks during 2009 fiscal year appropriations.
Those projects included $950,000 for ferry service for Route 240 bridge improvements; $950,000 for the Missouri Transportation Institute; $950,000 for downtown revitalization in Joplin; and $475,000 for the planning and design of the Lemay Community Center.
Bond
tells KMOX
that he's not concerned with the ranking from the watchdog group.
"Because they're very uninformed, I hope I do very well," said Bond.